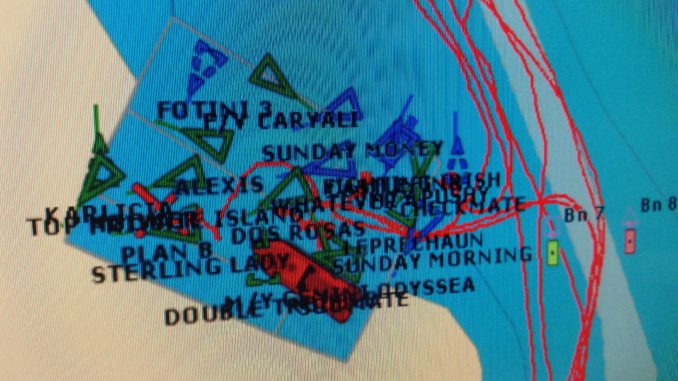 Everyone is abuzz with AIS, Automatic Identification System. There is such a thing as TMI – Too Much Information.
Think 2 toggle switches. More on that thought later but here are some common concerns of many marine AIS integrated systems….and if you don't know what AIS is then start here listening to BlogTalkRadio for one cruisers description and opinions of AIS…THEN! come back to this article and look carefully at the photos and video to see why it COULD be considered TMI in many circumstances.
(Welcome back and read on!)
If you take full advantage of integrating the AIS into your GPS Chartplotter and have onscreen displays you may have a very busy screen. Many marine brands have pop-up boxes that prompt you through the process.
First check your alarm radius. You do not want an AIS target alarm to scream when that vessel/distance is clearly not an issue to you. When you reset that alarm feature a pop-up box appears that obstructs the view of your navigation screen. This is not something you want to do while underway- not if you need to see your navigation screen.
Next when you click onto a target to learn who/what/where/speed/course etc often this pop-up box will obscure your navigation screen again. And when cruising through an area with a lot of AIS traffic, the vessel icons cover the navigation screen and you can not see information you need, channel markers, water depth etc…
When you travel in areas that are very congested then broadcasting the AIS is almost a detriment rather than an asset. Before you send me nasty emails, look at the photos of these super crowded screens. Many people are actually at the dock!
The best answer to this dilemma is 2 toggle switches. We call these switches Pirate (silent) and OFF. Toggle the transmit feature to Pirate (silent) when you do not want the bad guys, drug smugglers etc…to know your location or if you are just being a lurker and not actually underway anywhere. FYI law enforcement, US Coast Guard and the Navy do not usually transmit.
At the dock? OFF please. Look carefully at one of the photos below where every boat transmitting – EVERY SINGLE BOAT IN THE PHOTO – is tied up in a marina or secured on a mooring ball in a marked mooring field.
And when traveling in optimal daylight conditions in a crowded port like Miami, Fort Lauderdale, Charleston, Baltimore Harbor, New York Harbor and Chicago then turn the whole unit OFF or at least to pirate mode to avoid cluttering up everyone else's screen. If you need an electronic device to tell you that there are boats and ships everywhere around you, well…do I need to finish this sentence?
Learn to take advantage of the fun of cruising and learn navigation skills. Electronics are useful but look out the window….and if you don't know what AIS is… just Ask Captain Chris 772-205-1859