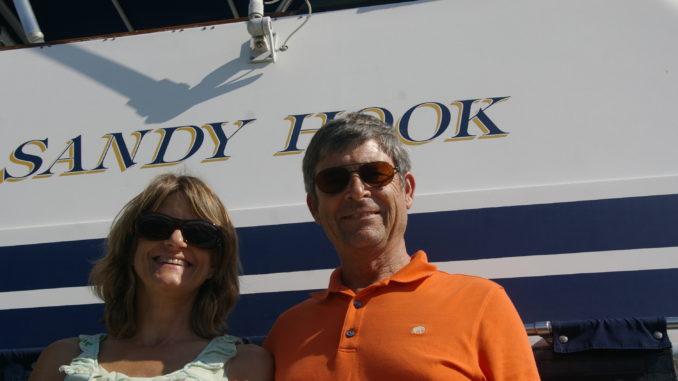 Joe & Kathy have been talking about the Great Loop for three years and decided to stop talking and start cruising. Joining us aboard our trawler SANDY HOOK was just what they were looking for at this point in the plan.
(NOTE: We no longer charter our boat but are pleased to come aboard YOUR boat anywhere for personal training with you and your mate)
Whenever they got the chance, their favorite past time was looking at boats, reading about boats and dreaming about boats. In addition to researching with several of the Great Loop books on the market, Joe and Kathy also subscribe to Passagemaker and Soundings magazines. Although neither one had a lot of experience in any boats larger than ski or fishing boats, Joe took a fishing trip on a 42 ft. Nordic Tug a few years back out of Juneau Alaska and anchored out each night for about 10 days. He was hooked.
Kathy, on the other hand, is like many of our clients- very open minded, along for the adventure but not totally convinced. Because she hasn't really had much cruising experience she is not sure how she would do.
That's where we come in and can offer some hands-on perspective. Joe and Kathy joined us aboard for 3 days to live and learn about this trawler lifestyle. Joe's research could now come to life aboard our 44 foot trawler. Seeing and touching all the above and below deck systems, actually using the equipment that support cruising safety and comfort allows these dreamers to do more than dream. Often this approach confirms that this is a do-able adventure. Joe and Kathy were right on target!
We got comfortable with functional navigation, introduced basic maintenance, anchored, hooked on to a mooring ball, practiced docking and even visited a boat yard. All these tasks were done as a team, Joe and Kathy taking turns as the helmsman, honing their skills and building cruising confidence as a couple.
A few days after they returned home Kathy was inspired and started looking at boats again on line. We received an email asking us about a few different boats, what did we think? A few back and forth question and answer sessions and they were talking seriously about their next step. Fortunately we are familiar with many of the boat brands and models and will continue to guide them through the process.
As you peruse the photos of this short adventure, can you imagine it's you at the helm, checking the fluids or picking up the mooring ball? Enough imagining! Start living the dream aboard our boat with professional captains coaching you each step of the way. Come meet Captains Chris and Alyse and start your own cruising adventure!