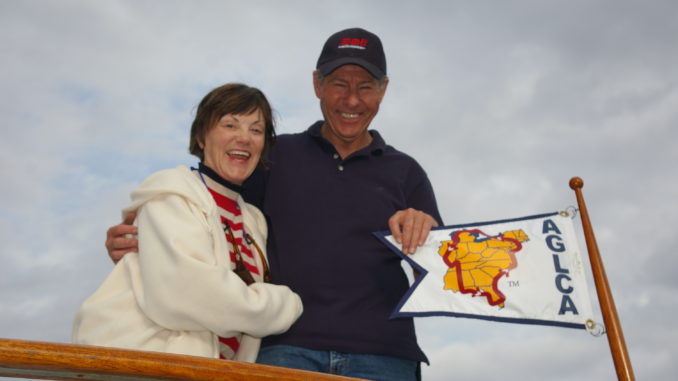 Loopers begin their adventure
Dreaming about doing the Loop? Is your dream giving you nightsweats… with more systems and more boat than you thought it would be? With Captain Chris Yacht Services you'll wake up to a bright new sunny day aboard your DREAM BOAT. Our specialty is teaching new owners all about their new yacht. We cover docking techniques, learning about on board marine systems and getting you comfortable caring for everything in your engine room space. Here's how a couple of AGLCA Loopers begin their adventure with Captain Chris.
New Owners on the Hunt for their Perfect Boat
Meet Ed & Nancy H. We first have that pleasure at Cruiser Expo in Stuart. Boat shows are where they experienced all the latest and greatest about cruising life. Next stop, Trawler Fest in Fort Lauderdale. There we reconnect once again at our booth in between seminars and trawler crawls.
This is a well informed boating couple who attend all cruising venues, boat shows and rendezvous. They researched for almost three years before they located their perfect cruising trawler, a DeFever 47 POC. Their broker always bends over backwards to match the right boat with the right owner. So this is truly a perfect fit.  Prior owners of a 51 foot Bluewater Cruiser on a Texas lake, these new owners are now ready to start the Great Loop in their DREAM FEVER.
Schedules Get In The Way
At Trawler Fest we chat up all the reasons for hiring a professional Captain. Then we agree to schedule training aboard their new boat in  a few weeks….Uh-oh. You know what they say about schedules? On a boat, schedules are dangerous but SNOW?? We patiently wait until the USCG offices up North can dig out from a snow storm before all the paperwork can be completed on this wonderful cruising yacht.
When the snow melts we arrive in St Petersburg to hop aboard this 8 knot trawler and immediately start reviewing onboard systems. We make a shopping list of groceries and spare parts for the cruise across the Okeechobee Waterway- from the Gulf coast to the Atlantic coast. After juggling where to stow their vehicle, fueling the boat and determining that this marina has no working pump out, we cast off around 1:30 PM and head south along the ICW.
The Adventure Begins
It's official!! These Loopers begin their adventure! And as lieutenant sponsors of the AGLCA, we help this excited couple celebrate. Cruising under the Sunshine Skyway Bridge we head into Santa Maria Sound. Dark comes early in the wintertime so we arrive at Marina Jack's in Sarasota just before closing time. A wonderful place to visit, the Sarasota downtown area is very artsy and full of smaller restaurants. We'll cast off bright and early tomorrow and try to make up for the traditional first day delays. (NOTE: Never tell your friends and family an exact date to shove off on your first cruise until you are actually ready to untie lines. Then be sure to file a float plan. Nothing ever goes according to schedule and Neptune just laughs at our foibles.)
Learning About the Intracoastal Waterway (ICW)
While underway we introduce these Intracoastal Waterway neophytes to shallow water. It's a challenge to stay in between the red and greens known as "the magenta line." Lake boating has its nuances but not like this. Never have they driven a yacht past a working dredge or across sand bars in the middle of the channel with temporary buoys.  Next we cruise through the Miserable Mile which is really about 3 wonderful miles and into new marinas all in one day.
Our second day starts before the roosters cock-a-doodle-do and finishes at Cape Coral. We are advised to turn at ICW marker #78 into a canal where they promise we will find a working pump out. Hip Hip Hooray!  Who cares if we must dock first to fuel and then again for the pump out. Practice makes perfect, right? It's the little things in boating that excite us but heads are a priority when you're on the water.
Comfortable Routines Develop
Day three begins before sunrise with fluid checks and preparing charts that we were too tired to look at last night. An early start means we won't lose precious daylight. Bright and early…roosters crowing… before sunrise…notice a theme here? Our 5:30 a.m. alarm clocks are not music to the ears of this recently retired couple but after a caffeine fix they come to life with chipper smiles…Still, mutiny always lurks around the bend so we keep them busy learning new things all the time.
Our rise from sea level through the first three locks is perfectly timed and we cruise past our planned stop in Moorehaven moving further ahead to Clewiston. Neptune is pleased and we are tied up at Roland & Mary Ann Martin's Marina before the band stops for the evening. Dinner with the local bikers, one other cruiser and a relaxing sunset over Lake Okeechobee -aah, the cruising life!
Last Training Day
Our last day we are off the dock before the sun peeks over the horizon once again, crossing Lake O to Stuart. Only two locks to go, the Mayaca Lock is open at both ends. Whoo-hoo! But before we get too excited we learn there is a work barge inside the lock itself, making repairs. We will have to squeeze between the work barge and the opposite lock wall, fenders at the ready. According to the barge crew it's an estimated 35 feet of space but our eyes tell us differently- we only have about 2-3 feet on each side. Whew!
The St. Lucie Lock drops us about 8 feet back to Atlantic Ocean sea level and we can put the fenders away for a while. The Roosevelt Car & Railroad Bridges open, welcoming us down the river, through the Crossroads where we finally hook up with the AICW. Another 20 miles and we are all tied up at Harbour Isles Marina in Fort Pierce FL.
Shakedown Cruise A Success
This shakedown cruise  allows us to review the fundamentals of navigation with this fun crew from Texas. And these new boat owners now have a great opportunity to determine what items they really want to customize, making this boat their own. Their planned stop over in Fort Pierce is for a few upgrades to be completed. Then these excited Loopers begin their adventure heading north to for the AGLCA Spring Rendezvous. If you're in the neighborhood drop by for a visit, just make it after 9 a.m. 'cuz DREAM FEVER is cruising on island time.
Ask Captain Chris how he can help you with your DREAM boat…Better yet, let us help you make that dream a reality from that start- seminars, training videos, consulting, hands-on learning. Need training? Ask Captain Chris 772-205-1859