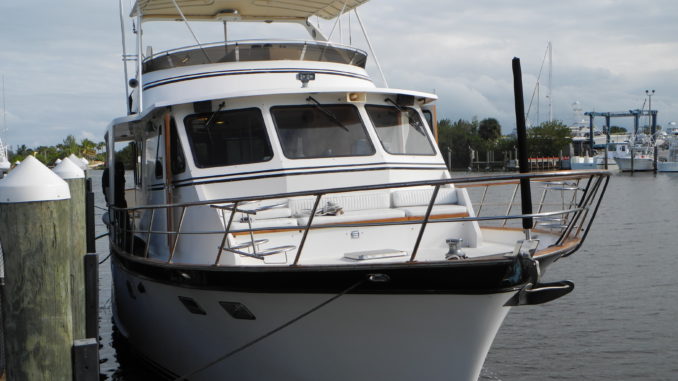 Training new owners of a DeFever – the boat of their dreams
How do you go from owning a center console trailer boat to owning the 53 foot DeFever of your dreams? Ask Captain Chris and he'll guide you all the way!
Shannon and Shae have the perfect boat for their family of five- the 53 foot DeFever POC, Performance Offshore Cruiser. The layout and design was exactly what they could imagine when they started out looking over 4 years ago. Now that they found this terrific trawler how were they ever going to maintain and maneuver her in the tight quarters of a marina? That's where we come in…
Beginning with the Basics
Captains Chris & Alyse spent three days with these new owners beginning with the basics. But before we start let's go a bit further back in time, back to how we met. Shannon discovered us on line. He chatted regularly with Captain Chris about different boats of interest over a few months time. Then they saw the DeFever 53 POC and knew she was the one. Chris assured Shannon that we could get he and his family comfortable running such a large boat and now it was time to prove it!
Both Shae and Shannon reviewed the engine room maintenance requirements on our first morning together. This was extra fun because it's a walk-in stand up engine room with plenty of space for all of us (see the photos below)!! Then we followed with a navigation review to stir up some memories from classes taken years ago. We even gave them homework to plan their trip north. This task brought reality to the forefront and let them see that 100 mile days were not going to happen at trawler speed. It's about the journey, right?
Dinghy & Anchor Training
Their new dinghy motor arrived on our first day of training so we took that opportunity to review the dinghy launch and retrieval steps. There is so much more to learn than just going in and out of the slip. But then again, we spent one entire morning practicing docking maneuvers. So we plan for at least one more day to fine tune that skill before they start their trip north.
Anchoring was another new skill to acquire, including arm signals and operating the capstan. We lowered the hook for lunch out near the inlet so we could see the effects of current and tide up against that of the wind. Smaller boats are less effected by the wind with their low profile. This 53 foot DeFever is like a giant sail and we must consider that it is greatly influenced by the wind.
Weather Watch
Watching the clouds building on our last day aboard we decided to head back to the marina before the skies opened up on us. You can easily become an amateur weather forecaster when you spend so much time on your boat. Reading the front lines is another skill that will serve you well as you cruise. We managed to squeak by without a drop but the winds did pick up making docking interesting but successful none the less.
We'll see this couple a few more times before they bring this roomy trawler to her new home port. They'll be bringing three new crew members with them next time! Check out our training time together here.   It was a great way for the family to learn together. Ask Captain Chris!