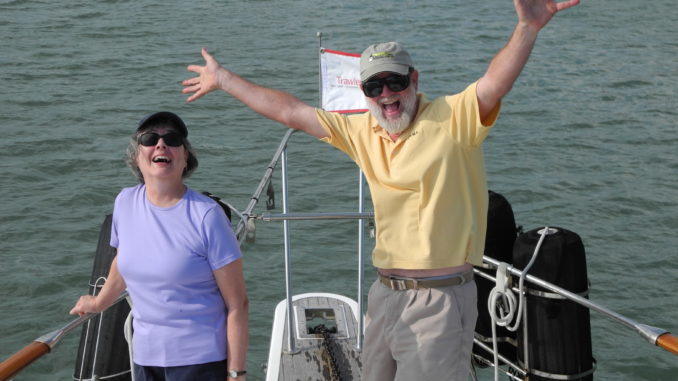 After three days aboard our training trawler, this couple's eyes were wide open to the cruising lifestyle. They are rehabbing a loopable motor sail boat that needed a little TLC and they had many questions….With a few boating classes and significant research under their belts it was time for putting words on the paper into action on the water.
What about a windlass? How much horsepower do we really need to lift the anchor? What size and type of anchor should we have for cruising the loop? What about keeping the sun down to a dull roar in the cabin? How to navigate using GPS and paper charts in unfamiliar territory? We were able to answer those questions and so much more when they
Dinghy storage was a great concern to them as well so we spent a bit of time walking around our marina. Pointing out this option and that option didn't give them all the solutions but certainly helped them hone in on the right path.
Our mornings in the engine room clarified that checking fluids is more than looking at the oil dipstick. Engine room checks included all the strainers- air conditioner, generator and the main engine. We also reviewed the sea water or raw water cooling system We traced the route that it takes to cool different components of the engine as it makes its way from the engine out the exhaust hose through the transom. A cool engine is a happy engine, for sure.
If you've never seen range markers or understand how they work then we can help! Running a range assists when you want to be sure to stay in the channel as well as determine your compass deviation. Really? Compass deviation too? Come aboard with us and we can give you some pointers to take back to your boat.
In their short time with us this couple added a few more items to their possible option list. RADAR is one of these items. Interpretation and use of RADAR is a skill that is easily learned when you spend time with Captain Chris. Like most new technologies, the more you use it the more comfortable you can become.  Time aboard using RADAR in good weather convinced these soon-to-be loopers that this may be another option to add to their new electronics package.
On the second morning we took a short 30 minute break and presented "Your engine overheated. Now what?" on the AGLCA BlogTalkRadio show. If you'd like to listen click on the blue box just above the photos. You can pause it anytime…Have more questions after you listen? Send us an email and we'll be glad to help you sort things out. Better yet, come aboard with us and start your own wish list for your perfect cruising boat!
(NOTE: We no longer charter our boat but are pleased to come aboard YOUR boat anywhere for personal training with you and your mate)