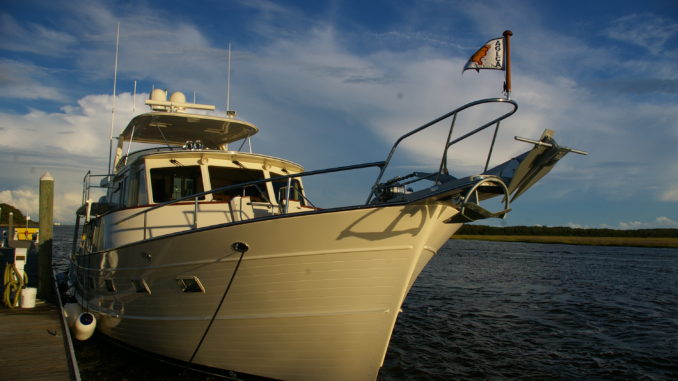 Perfect timing. We fly into Baltimore, meet the new yacht owners in the baggage terminal, hop into our transportation and away we go! Ready to start our training delivery aboard a brand new Fleming 55. She's patiently waiting for us at Burr Yacht Sales in Edgewater, MD. What a beauty!
Schedules are a funny thing and although the boat is ready to go, Murphy created some other-than-boat delays. You know Murphy? his LAW usually interrupts the best laid plans. Finally we have the provisions aboard, the perfect weather and we are able to  cast off heading south. The Chesapeake Bay is calm with easy swells from our port quarter as we cruise along at 9.5 knots. Life is good.
This is a combination adventure and cruise south so we plan our stop in Solomons, MD the first afternoon. We introduce these new Loopers to a typical cruiser tradition: meeting other cruisers!  Friends aboard a Selene 48 are docked across the creek  with their dinghy already in the water. They motored over bearing gifts (libations) in exchange for a peek at this fine new Fleming. After a boat and engine room tour we enjoy stories and compare comments about cruising south. Don't forget to get the charts out and take notes.
We are blessed with cool weather and beautiful sunrises as we cruise along entering Hampton Roads and the world's largest naval base, Norfolk, VA. We see the aircraft carrier ENTERPRISE, a few submarines, LSDs and other naval ships in port for servicing.
Murphy has jumped ship and now we are fortunate to have Mickey's parking angel watching over us as we enter a stretch of bridges all soon to be on curfew. We time the bridges perfectly. All of the bridges near Norfolk are on tight schedules and had to be cleared before rush hour at the shipyards. If we miss one opening we would never have gotten this far in two days.
Having the option to go fast makes the difference between docking before dark or arriving in the same location the next day somewhere around noon. Entering  the Great Bridge Lock around 430pm we can spy the Marine Corps FREE DOCK just before the Great Bridge Bridge. Hooray! There is space for us. More bridges await tomorrow.
Because rush hour curfew restricts marine traffic after 7 AM we decide to leave the dock at O DARK THIRTY and rely on our experience, GPS Chartplotter, RADAR and all hands on deck as we idle through the next three bridges to the open ICW. Our plan pays off and we are well on our way to a beautiful sunrise and calm waters…and FAR LESS BRIDGES. Cruise along with our VIDEO followed by still photos below as we travel south through the Chesapeake Bay, Norfolk, Alligator River, Pungo, Morehead City, Cape Fear River, Southport, Georgetown and Charleston, SC.
Call us if you would like to know more about the Fleming 55 or our "Training on our Boat in Florida or Your Boat Anywhere".