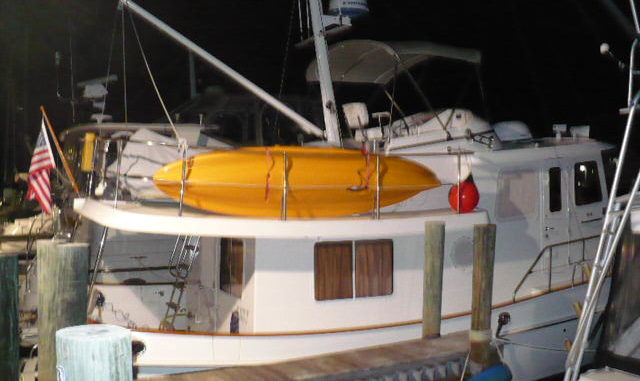 Crossing the Gulf of Mexico with Confidence
Crossing the Gulf of Mexico in a 39 ft Kadey Krogen Trawler can be a wild ride or a piece of cake. Making any open water crossing can be a daunting experience…But WITH EXPERIENCE it can be another beautiful day on the water. Crossing the Gulf of Mexico with Confidence is easy when you Ask Captain Chris. When we are young children our parents and teachers encourage us to practice, practice, practice, honing our skills. That same advice will take you to the next level of cruising with confidence.
Ask Captain Chris to Coach You
Captains Chris and Alyse are invited to help make the crossing of the Big Bend from Panama City, FL to the Tampa Bay area. The owner of this 39 foot Kadey Krogen has done the trip before but still has a bit of trepidation. It's been a while and he knows what he doesn't know. Having seasoned Captains aboard offers peace of mind. This overnight non-stop run will give him more experience in continuous open water cruising.
Weather windows are short due to a number of c-c-cold fronts ripping across the country and this window is no exception. If we are lucky it will stay open a little while longer as forecast. Lots to plan and prepare for and a weather forecast must not be overlooked.
Provisions
We arrive at the Panama City marina and stow our gear and groceries. It's a good idea to put on some extra, easy-to-fix grub in the event the seas pick up and no one volunteers to be the galley wench. Pretzels and ginger snap cookies are two of our favorites as they help calm a rumbly tummy. Best to have just-in-case items aboard and safety equipment is no exception.
We always travel with immersion suits and discussed that with this owner prior to the trip. He asks that we bring an extra for him as his trawler is not equipped with a life raft. After we complete our engine checks it is time for instructions on how to don the immersion suit. The easy to follow steps are written on the outside of the carry bag but there are tricks to wearing this floatation device. Lots to prepare for yet hope to never need.
Time to Cast Off
Casting off at first light, the winds are calm but a light drizzle begins our 200+ mile crossing. A cargo ship is also leaving port so we give her a wide berth while the pilot boat retrieves the pilot from the ship. We head out 30 miles to clear the shoals of Cape San Blas then change course, steering directly for Egmont Channel Sea Buoy and the entrance to Tampa Bay. This open water crossing is different than running north and south on the Atlantic coast because there is NO ONE out here in the Gulf.
Fortune smiles on us for this December crossing. Most boats have already headed south before the holidays since the fronts are quite active from November on through March. We have coordinated a buddy boat arrangement with another crew we trust. They plan to travel at the same speed heading for the same destination and between the two boats we have a gazillion days of experience on the water. Buddy Boating can be a help or a hindrance so be sure you know the skill and intent of the other captain before you agree to make a voyage together. To help pass the time during a long night, our helmsmen can chat on the VHF with our buddy boat while others in our crew get some rest.
Sheer Boredom…we hope!
The seas are a nice 2-4 throughout the first day actually becoming calmer after sunset. The almost blue moon is bright, guiding us most of the night. Our weather window seems to be holding.
Hints of daybreak streak the sky before our second sunrise but the winds are growing restless. As the sun gets higher, so do the waves. Thankfully the champagne stern of the Kadey Krogen is designed to handle following seas and she doesn't disappoint. Using the binoculars to scan the horizon we spy an anchored freighter marking the channel entrance to Tampa Bay. Land Ho! And are we glad this trawler has active fin stabilizers when we make our turn at the sea buoy. It's a regular washing machine out here. Even the dolphins are jumping funny.
Tucked in before Dark
Docking at 5pm after thirty-four hours on the open water, our leg of the journey is complete. We made a plan, adapted it for the weather and kept safety in mind throughout the journey…and it was worth it! Crossing the Gulf of Mexico in a 39 ft Kadey Krogen Trawler was an easy ride this time. This trawler owner now has more
Learn More
Check out our Video collection including a two part training trip aboard a Kadey Krogen 39 on our Vimeo page. 
Want to attend a seminar on Cruising 101 FUNdamentals? Introduction to Boat Systems? Learn more about Docking? Anchoring? Locks? Engine rooms? Click here for our ships store. Ask Captain Chris 772-205-1859