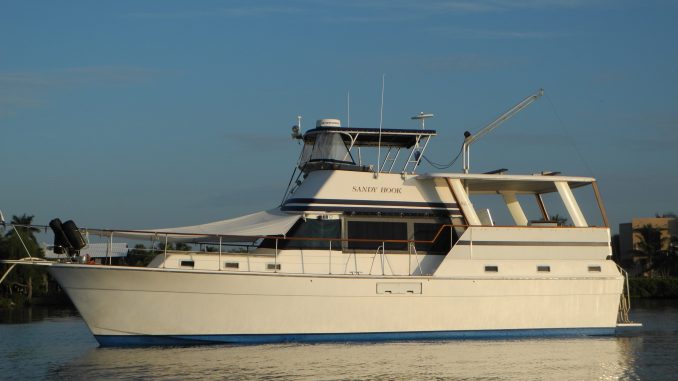 Did you ever wish you could cool your boat without running the generator for some air conditioning? This subtle cover is made of Stamoid fabric and will keep the cabin cool with a sun shade.
One Man's Trash is Another Man's Treasure
This terrific trick started as a fluke while cruising in the Florida Keys one especially warm winter. Another boater was tossing his very old sail. Hmmmm. Surely there is something I can do with this huge white piece of canvas besides create more tote bags. With a desire to drop the temperature in our boat and a very creative boater friend, together we fashioned a way to keep the cabin cool with a sun shade. All this prototype needed was a few well placed grommets and some small stuff. If you've never heard the term- small stuff is very small diameter line which is very useful in a variety of applications.
Low Risk. High Reward with DIY
This was one of the easiest DIY projects with the greatest reward. It helps if you have some sewing skills but I did not. Still, we enjoyed the benefits of this version for an entire cruising season. Easy up and easy down for getting underway.Great way to keep the cabin cool with a sunshade. And it was virtually FREE, a cruisers favorite four-letter F word. 🙂
A sun shade lets so much more light into the saloon than our canvas window covers which also prevented us from seeing out the bow. A bonus we discovered is that we could leave the forward hatch open even when it was raining. An open forward hatch allows for the breeze to flow through your entire boat while at anchor as you are usually pointing into the wind.
Version 2 Keep the Cabin Cool with Sturdier Material
Another cruiser introduced us to a fabulous waterproof fabric called Stamoid. Sturdier and much thicker than the original thread bare sail, the Stamoid would provide even greater sun protection than our first sun shade. My sewing skills are quite remedial and this is one of those times it made more sense to call in the professionals. A local canvas shop fashioned the perfect shape to throw shade over our bow and main saloon cabin. And as experts they made some great changes to our original design.
Instead of grommets and small stuff, we now secure our sun shade using web straps and D-rings. Of course, every boat is outfitted differently. We used all existing pipes, hand rails and posts. To accommodate this new design we only had to add two stainless steel pad eyes or eyelets to snug down the upper side connections.
So if you see a large piece of canvas or even a sail heading to the marina dumpster, get creative.  Maybe you too can keep the cabin cool with a sun shade. Learn more about Cruising 101 FUNdamentals when you attend our 2-day seminar and Ask Captain Chris.