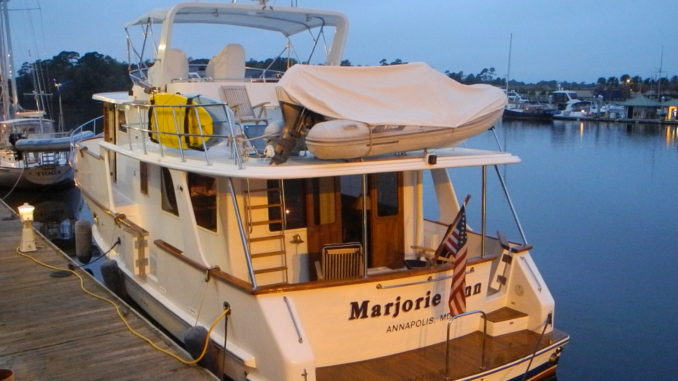 We first met Judith and Gord at the Mississippi GulfCoast Boat Show a few years ago after being long term subscribers to our newsletter. Captain Chris helped them continue cruising when they stopped in Fort Pierce for some maintenance on their DeFever 49 – a terrific cruising boat.
Hi Chris,
Just a short and somewhat belated note to thank you again, for your help in locating an electrician for our DeFever 49 Très Bien and in particular for your recommendation of Dave Arnold. Not only did he do great work, but he explained (patiently, over and over) it all to us, so that I could document it and we both could understand how things are now wired and how to use the breakers, switches, etc. properly in various circumstances.

So all in all we were in Ft. Pierce City Marina for 6 weeks ….and we really loved it there. Loved all the activities at the marina, and in the town. The marina facilities were good. And we could walk to lots of interesting places when we didn't have a rental car.
We left Ft. Pierce this past Monday, and headed south. Are now in Miami, anchored at Marine Stadium for the day, and enjoying the turquoise water. Finally feel like we are really cruising! (About time, after almost 2 years!). We are headed to the Keys to join some friends anchoring at Islamorada. We'll hang out with them for a week or so, then head back to North Palm Beach. Gord is taking Bob Smith's hands-on diesel engine course, and then we'll attend the DeFever Cruisers Rendezvous. After that, back up to Brunswick to close up Très Bien for the summer. We'll head home before things start growing so we can rake out all the flower beds!
Hope your all-day orientation course goes well. And please give our best to Alyse.
Again, thanks so much for your help!
Judith
PS Oh, forgot to tell you that you and Alyse get the credit too for our windlass repair…because, fortunately, we were at the dock when it failed. Gord had put the anchor and all chain out in order to change the bitter end from chain to rope as per your very useful DVD on anchoring, and it was when he went to pull the anchor back up that the windlass failed. Thank goodness it didn't happen when we were actually anchored out somewhere. Now all we have to do is paint the anchor chain.
Editors note: Apologies to those expecting the DeFever 49 photo. These are not currently available to us as we are somewhere afloat on another training trip and our archival photos are in our land office. Hope this gives you a DeFever fix until we upload the actual pictures.