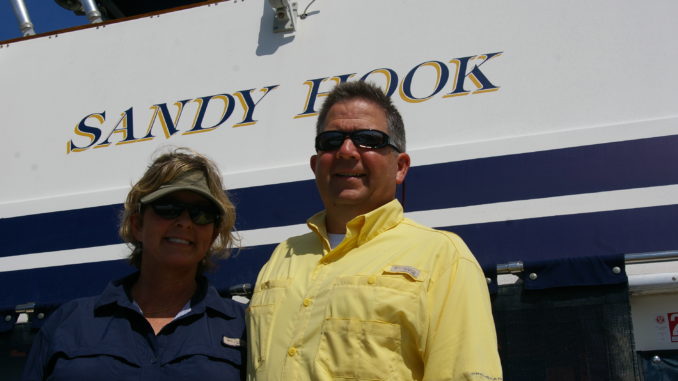 Just making sure, that's what they said!
During a recent trip aboard Sandy Hook we welcomed a couple from the Atlanta area. They are moving up from a 26 foot Wellcraft to a trawler fit for two. They wanted to make sure cruising and living aboard was the future for them.
(NOTE: We no longer charter our boat but are pleased to come aboard YOUR boat anywhere for personal training with you and your mate)
With plans that include cruising the Great Loop and the Bahamas they are considering something like an American Tug.

Rob and Sandy (no relation to Sandy Hook) arrived Thursday evening to a wonderful dinner prepared aboard our boat. After dinner we relaxed on the aft deck, got to know each other and discussed their goals.
In the morning, we started with charting and trip planning. When everyone's brain was filled to the tippy top it was time to change gears. During a short walk to the marina parking lot we passed all types of pleasure boats, discussing topics like anchor types, hull forms and just how would you board each different style boat? Pilot house trawlers, long range cruisers, fast trawlers, semi-planing and Europa style are just some of the varieties we reviewed.
Up on dry land with lots of elbow room we explain a mock up of a complete raw water cooling system as installed on propulsion engines and generators. Then back to the boat for below deck systems review and the real deal, engine fluid checks and casting off headed south for our evening anchorage.

August in FL has a few rain showers each evening and we anchored each day just before our boat was rinsed off from bow to stern. A beautiful sunset and dinner was enjoyed with the waves lapping against the hull.
During our 3 days together they learned a lot about owning, operating and "Living The Dream" or LTD as we say. Watch the waterways for Rob, Sandy and their 2 dogs as they cruise into the sunset!

Here are a few photos where you can imagine yourself at the helm "Living The Dream".