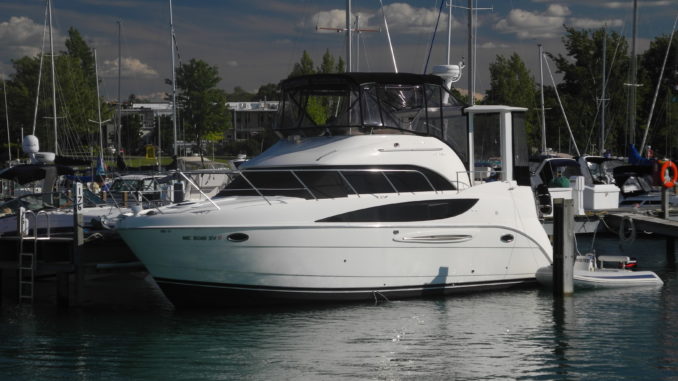 Lake Michigan in July finds Captain Chris with Ron and Teri who just purchased a Meridan 365 Motor Yacht based in Elk Rapids, Michigan. They asked for help moving up from a smaller boat he had a long time ago.
Twin gas Mercruiser V8 engines and a Kohler generator to keep the air conditioning running. We were happy! The new owners were even happier with the DOC Dock On Command feature Bow and Stern Thrusters. Wow! This boat is fully accessorized.
Like most training aboard, on day one we do a full assessment of below deck systems including the raw water cooling systems. It's lucky we did because the generator ate the impeller on day two. This is slang for the pump chewed up the raw water impeller and spit out the pieces, clogging the heat exchanger and raising the engine temperature. Since Ron had the training the day before I was able to coach him through the impeller replacement. A bit of a learning curve but we finished the job, started the generator and had complete water flow and cooling.
Next we began our at-sea training or at-Great Lake training. We cruised Lake Michigan at 25 knots to Old Mission Bay learning about the trim tabs and how proper positioning can help with speed and fuel efficiency.
Arriving at our planned destination we practiced anchoring. Then both Ron and Teri maneuvered a few figure eights to get comfortable with how the boat handles in close quarters.
If any crew member finds themselves suddenly in command it is essential to learn some of the basics for navigation and boat handling. So, we were sure that everyone knew how to read and understand the GPS functions including finding your way. It is easy when you use bread crumbs on your GPS.
Winding our way back to home port we finished up with docking, docking and you know, more docking. Bow in, stern in, side tie and do it again. Practice makes perfect!
Ron and Teri are ready to cruise and in a few years start south to the warmer climates of salt water in the Gulf of Mexico.
Give Captain Chris a call to see how he can help you get ready for your cruise of a lifetime. 772-205-1859