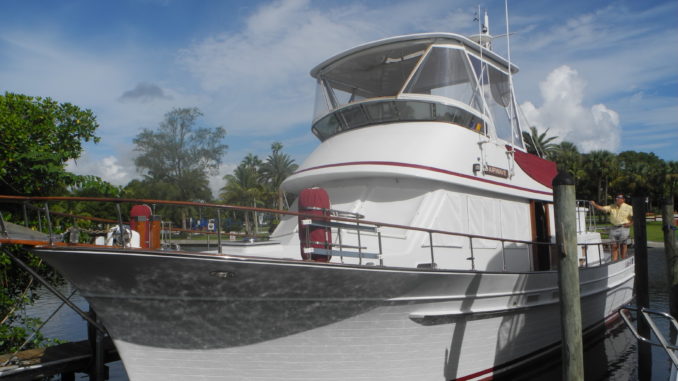 Cruising off into the sunrise- not sailing into the sunset as you may have heard before- this New Jersey couple retired and are now able to Live Their Dream and go! Go where? anywhere they want…
Ted and Amy are doing just that…after they de-cluttered themselves of stuff and bought a boat. I was asked to help them become more comfortable with the boat and the cruising lifestyle.
The boat is now based in Juno Beach, FL where I joined them aboard their new-to-them Albin 43. Starting with below deck systems training, we explored all the nooks and crannies. Alyse and I both believe all boaters need to know what is down there, for safety's sake even if you aren't going for a mechanic's rating. In case something stops working you just may be able to repair it or at least know what is wrong before calling a service technician.
A single Ford Lehman diesel sits in the keel with two fuel tanks outboard (aka saddle tanks) and a fuel system manifold to distribute the fuel supply and return. A generator sits forward to port surrounded by air conditioner compressors, water heater, potable water pump and surge tank, fuel polisher unit, batteries and more batteries and an inverter.
After getting the systems under control we replace the fuel filter, open the raw water pumps to visually inspect the impellers and clean the strainers. Then we start the engine to head out into the ICW for cruising practice, anchoring and then docking skills. Most all single engine power boats back right in reverse, meaning it will not go straight, the left hand screw (propeller) will reverse in a right hand fashion and walk the boat to starboard or right while in reverse. Some may feel this is a problem but learn to use it to your advantage and you can dock anywhere like a pro.
Like all cruisers this couple will visit the FL Keys this winter and then cruise up the ICW to the Chesapeake Bay for the summer season and maybe, just maybe, start the Great Loop next year.
Here's what they had to say after training...