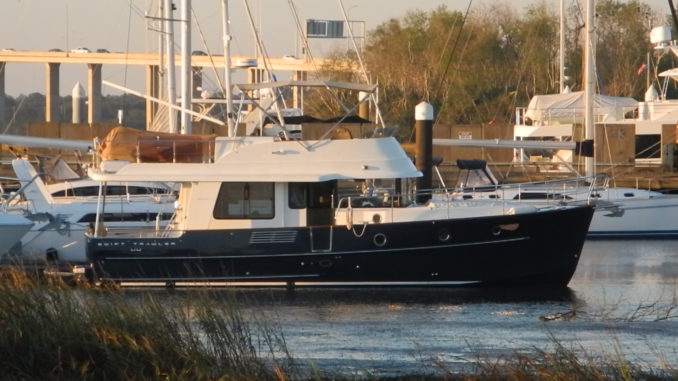 What do you do when you buy a boat and want to learn systems and docking skills? Ask Captain Chris, of course. Owners of the 44 foot Beneteau Swift Trawler did just that. So let's see how they fared.
New Skills for Your New Boat
It's great to discover what you need to know before you go cruising. We were first introduced to Tim & Brenda by former students of ours who also enjoy owning a Swift Trawler. Meeting other owners of your particular boat model can help with a sometimes steep learning curve, particularly when they share what worked for them starting out. The key recommendation to Tim & Brenda was education, hands-on education aboard their boat.
After coordinating our schedules, I joined Tim and Brenda aboard their new Swift Trawler 44 at the Charleston City Marina. Our goal was to help them learn more about their boat systems and fine tune their boat handling skills.
What Makes It All Work?
Understanding how all the systems work together is essential. So we started with a tour of all the below deck equipment including the air conditioners, shaft seals, fuel filters, oil change system and much more. If you are at the helm and an ominous alarm bleats out, it is less stressful when you understand the potential problem and it's immediate impact.
Fluid checks involved both the propulsion engines and diesel generator. Yup, it's more than checking to see that you have enough fuel. Fortunately you won't have to become a diesel mechanic to learn these simple but daily tasks.
We moved on to check out the 220 & 110 volt ac systems then 12 & 24 volt dc systems. Wow! Can you imagine all the different voltages in a boat? After all, you are managing a small independent city with it's own power plant.
A keen desire to learn can help turn a novice boat owner into a keen observer and trouble shooter. Sometimes reporting what you see/don't see is a simple as reflecting on the picture you saw yesterday and compare it to what you are seeing today- drips, rust, fluid levels, tattle tales, fire extinguishers and anchor windlass. Bow to stern, we touched on everything that supports a fun but safe day of boating.
Let's Go Boating!
Charleston SC is a lovely town to visit with a number of marina options to choose from. But our training plan included relocating to Pawley's Island, SC, their new home port. Part of trip planning includes how fast you intend to run your engines and how many miles you want to travel each day. The beauty of this Swift Trawler is that you have options. This planing hull is named well for the swift speed that can be attained. But, cruising at trawler speeds of 6-8 knots keeps your budget happy.
So we reviewed their navigation skills, planned the trip and discovered when slack tide was to occur. Lucky for us 10 am saw a break in the otherwise fast moving tidal current.  So we toss lines, cast off and headed across Charleston Harbor northbound up the ICW.
Along the one day trip averaging 17 knots we cruised past a few dredges and were overtaken by a few faster boats. Communication from the navigator to the helmsman includes pointing out other boats and other things seen along the waterways. Team work makes every trip more successful and effective communication is pivotal for that success.
Docking & Anchoring Practice
Finally home we took the opportunity to practice more docking skills. Alternating roles of helmsman and deckhand allows Tim & Brenda to understand each others job. Support is easier when you know what to expect.
The marina at Pawley's Island is in a man made lagoon. Unlike Charleston, there is no tidal current in this location. This benefit of no tidal current is wonderful for docking practice.
Anchoring was planned for the next day. We selected a popular spot to anchor at the Red Neck Riviera Bluffs. Just like this day, we recommend that you practice anchoring during daylight hours so you may be more confident when anchoring at night.
Ready, Willing and Able
Tim and Brenda are now ready to start cruising. Their initial plan is to boat during their vacations. Their ultimate goal is for long distance, long term cruising to include heading south. You may even see them cruising the Great Loop.
Learn more about Cruising in our two 2 day classes in Vero Beach. Click here for information on what to expect in the seminars and registration.
Invite us aboard your new boat for training. Just Ask Captain Chris 772-205-1859  or email chris@CaptainChrisYachtServices.com