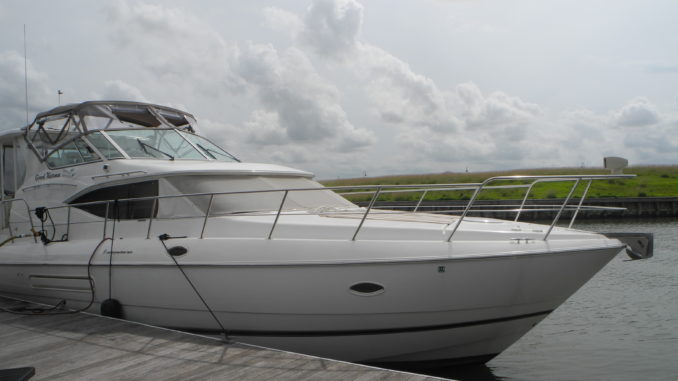 These Texans called Captain Chris for training aboard their new boat after meeting us at a Great Loop Looperpalooza in Fort Myers a few months back.
When I arrived at their marina in Texas and saw their Cruisers 455 I said, "I know this boat!" It was hauled at Crackers Boys in Fort Pierce Florida a few months earlier when the seller was doing post sea trial maintenance items.
With an interest in learning as much as our first day allowed, let's get class started! Beginning with a below deck exploration we go stem to stern. From the anchor windlass to the generator and Volvo propulsion engines, it is important to be sure your systems are in running order before you turn the key. Although you don't need to be a licensed technician you can do inspection and preventive maintenance on most of the tools that make happy cruisers aboard this Cruisers yacht.
Hot is a relative term but certainly describes Texas at the start of summer. Air conditioning is essential equipment for most boaters anywhere south of the Great Lakes. Gotta run the genny while away from the dock and this trouble shooting saves the day. When we started the generator we noticed raw water flow problems due to a vented loop failed in the open position, blowing salt water all over the engine room. Cut out the bad loop, install another working loop and ta-da! Problem solved. (see video on our YouTube Channel here.)
Early next morning we reviewed navigation notes on Clear Lake in Kemah and Galveston Bay. This is where we would train for the next few days.
Next, everyone learned to be competent with line handling and knot tying. Proper fender placement for floating and fixed docks rounded out the morning. Preparation is everything in pleasure boating.
After lunch at the dock we head out into Clear Lake toward Galveston Bay. Windy weather helped us decide to practice on day markers and other close quarters maneuvering. Always give yourself some wiggle room until you become comfortable with how your boat works. Then, after understanding how to twist the boat with twin engines we progressed to docking at various slips and the fuel dock in our home port marina. We saved bay boating for the next day with a better forecast for smooth seas.
The next morning forecast was still windy but improving so we cruised east through the narrows into the chop of Galveston Bay. These new owners got to experience surfing with following seas. Not fun but still safe! We practiced steering at different angles and speeds to decrease the pitch and uncomfortable feeling from surfing. Sometimes 100 RPMs faster or slower makes a big difference in how you ride the waves.
Heading into the waves and diagonally at high speeds of 20 knots allowed them to discover how the trim tabs can support a smoother and more efficient ride. Up and down, right and left – a properly trimmed boat can eliminate pounding and reduce spray on your windshield.
We finished our third day with a bit more docking practice and before you knew it they were sliding into their slips with the ease of experienced owners.
When you train with Captain Chris you can follow up with questions that will help keep your cruising confidence long after the onboard training is finished. A week or so after returning to Vero Beach we received an email about their power cable design. They were not at their boat and wanted to order another cable to supplement the shorter 25 ft they currently owned. Just Ask Captain Chris!