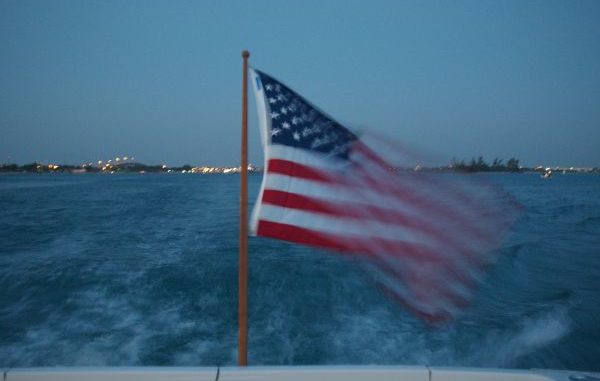 Vessel type/Length True North Flybridge- 38 feet
Cruising speed – 19knots
Engine type/Horsepower – 370 Yanmar
Starting location – Miami Boat Show
Final destination – Key Largo, FL.
True North. Pearson Composites has entered 2 boats into the Miami Boat Show. If you attended you may have seen them on the Pier next to the West Venetian Causeway Bridge. The boats were trucked in from Rhode Island and factory personnel delivered them to the show. After the show we were asked to deliver the 2 boats to 2 different locations.
The True North 38 Flybridge model had to be delivered to a dock in Key Largo, FL Keys. Before either boat could move we had to wait for the slack tide to allow tricky maneuvering to exit the boat show dock next to the concrete bridge (West Venetian Causeway). Using the engine and bow thruster along with a few friends we were able to get the boat out and on the way to Key Largo.
The ocean was a little bumpy but this boat took the seas well. After clearing the rock jettys at Government Cut and turning south it was an easy ride down to America's Playground, the Florida Keys. Using the GPS, the turning point was located and the boat turned into the man made channel to the new owner's dock. After tidying up the boat and securing a rental car the drive back to the Miami Boat Show location was uneventful.