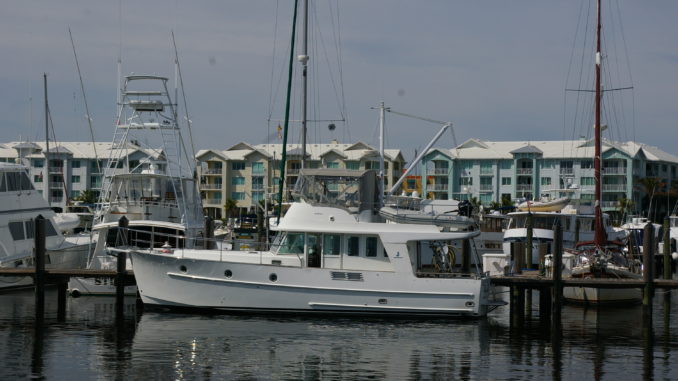 A few months ago we did some training with a family aboard their new this 42 foot Beneteau Swift Trawler in VA. Now we are asked to relocate her from Great Bridge VA to Charleston SC.
We arrive mid day at DESIRE and are pleasantly surprised that the owner's son Nick is already aboard. Nick joins us in lieu of his Dad and is eager to learn while riding aboard during this delivery. This time of year daylight is short so we perform our engine room checks, assess the boat while we still have natural light and we make our provisioning list for a shopping run later this evening.
The next morning we leave Chesapeake VA, head through Croatan Sound with a plan to arrive in Oriental NC just before dark. The temperature is starting to drop and the gloves and hat are necessary equipment. We wake to find 36 degrees in the chilly fog. Later in the day the Sun comes for a visit and we feel the balmy 50 degree high. Winds are picking up at 18-25kts NW. Our forecast is for gale greater than 40kts through the night and into the next day. The sun is setting as we pull into this nice marina and we are happy for hot showers and a good dinner ashore.
Our second morning brings low 40s in a misting rain but once again the sun makes an appearance later in the day. Wind 15-20kts. NW with higher gusts. Tides are lower than usual probably due to the wind. Many sailboats are aground today. Carolina Cut in the ICW is 5 ft at Mean Low Water (MLW) and many sailboats must wait for high tide to cross this area. The ocean is too rough for them and the ICW is too shallow. It's good to be in a power boat with an enclosed flybridge. We are slowed by waiting for two bridges which only open on the hour and we just missed one by 5 minutes. The dredge at the bottom end of Snow Cut is in the middle of the channel partially blocking the Cape Fear River entrance. So much to experience in just one day on the waterway. Southport SC here we come.
Day three brings us a sunny day on the way to Georgetown SC at the Boat Shed Marina. An easy walk to town from here, we are grateful for the last slip available. All three Georgetown marinas are full tonight as the snowbirds converge.
We get a very late start from Georgetown due to incredible fog. We are up at 0500 with the intention of casting off early but there is no visibility until 0815. That's right, NONE. Then we can see for maybe 2 boat lengths over the next 5 miles. We traveled behind a slow trawler allowing him to act as a pathfinder on our RADAR. We keep in radio communication with him and other boats. The fog arrived due to the significant temperature difference between the air and water. Although it is not unexpected during the late fall we haven't seen it this thick in a while.
Soon we have good visibility and can put some miles under our keel arriving in Charleston with temps in the high 60s and clear skies. After securing the boat we meet with JM from St. Bart's to review some items the owner would like upgraded then clean the boat and review all that Nick has experienced during this delivery trip. He'll certainly be able to use all he learned on the next boat trip with his dad.