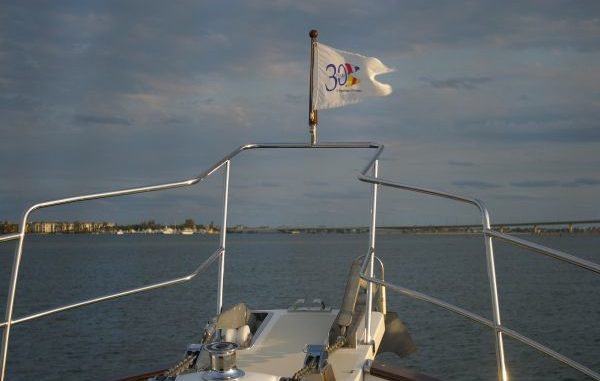 Vessel type/Length – Krogen 58; 58feet
Cruising speed – Economical speed about 8.5 knots
Engine type/Horsepower – Twin John Deere Diesels
Starting location – Miami Boat Show
Final destination – Fort Pierce, FL
The boat was displayed in the Miami Boat Show Feb 2008 . We brought the boat down to the show from Stuart, FL and had a late departure so we had to anchor in Lake Worth near Palm Beach the first evening. Next morning we continued down the "ditch" because of bad weather offshore. We arrived in Miami at the Boat Show site while the tide was still ebbing so we anchored to wait for slack tide to move into the tight space for the show. Near dark and no tidal current we still had a 25knot wind to consider. With twin screws and a vessel that handles like a dream we were able to put the boat in the slip for the show. We were in place ready for the show! Come on aboard and check out all she has to offer!
The boat show weather was great and before you know it, it's time for us to take the boat back home. We could not move out of the temporary marina until some of the other boats blocking the exit had left. Then we had to wait for the tide to slack so we could maneuver out of the tight space and head north. Of course, the ever present winds made us pay strict attention. We were able to cast off early afternoon and had to stay in the ICW because of high winds offshore. This meant a long boat ride having to open countless bridges along the ICW.
Since we left late in the day and were in the ICW this would turn into a day and a half journey. We spent the first evening in Fort Lauderdale at Bahia Mar Marina. This is a terrific marina, the basin does not have a tidal current and we are in the middle of restaurant row with endless choices for dinner. A brisk walk down the beach revved us up after sitting around waiting for the tide to slack to leave the boat show.
We woke early and cast off before light so we could get started with the ICW and bridge openings. This was a pleasant day, good weather and a lot of friends cruising along as they also were returning boats from the Miami Boat Show.