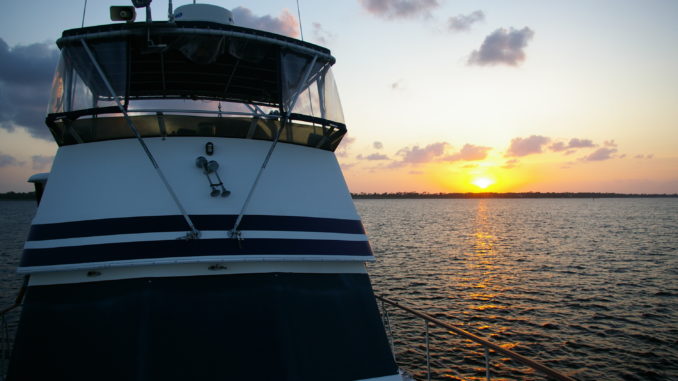 For those who want to know what cruising can offer, take a sneak peak at some of the day to day events in the lives of typical cruisers. Each of these bloggers have something in common: They had Captain Chris Yacht Services start them out on their journey
Blog – CHANGER
http://web.me.com/michellejacoby1/Cruising_on_CHANGER/Blog/Archive.html
48 ft. Selene Ocean Pilot House Trawler. We hope you follow along on their adventure and visit their blog from time to time to see what they've been up to since they left Fort Pierce FL in spring of 2011.
Blog- BIG SMILE http://mvbigsmile.com This 53 Selene is the big sister to the 48 and features a wide body. Read along with this couple as they start Living the Dream.
---
Blog – DREAM FEVER a 47ft DeFever Performance Trawler
http://dreamfevereandn.blogspot.com/
A couple with Lake boating experience does the loop aboard a 47 foot DeFever.
---
Blog – LIMERICK Kadey Krogen 39
http://limerick3942.wordpress.com/
A year of embracing the cruising lifestyle aboard a trawler.
---
Blog – MISTY MOOSE – Golden Star 42Trawler
http://moosetique.com/
Cruisers from Maine doing the Great Loop. Read about their travels as they meander through the waterways of North America. We joined them as they started out in December 2010.
---
Blog – MUDDY WATERS Kadey Krogen 48 North Sea
http://www.samwayadventure.com
Follow this family of four as they cruise the Caribbean and onward to start the Great Loop. Once you get to their site then click on family blog and catch up on their cruising fun!
---
Blog – NEXT TO ME Jefferson 42 Sundeck Trawler
http://olallabay.blogspot.com/2012/01/next-to-me.html
Living in the Pacific Northwest, Cathryn & Bob come east to start out on their Great Loop Adventure. In January 2012 they purchased a trawler to begin living the dream.
Blog – SILVER BAY Kadey Krogen 48 North Sea Sue & Bruce take you through the steps for living he dream. From ordering their KK48 trawler SILVER BAY to time spent training aboard our trawler to delivery and training aboard their brand new trawler and cruising into the sunset!
---
Blog- THORVY Krogen Express 49
http://mvthorvy.com/rss
Follow this young couple from Philly as they research and plan how they will live the dream…including spending time aboard SANDY HOOK and cruisers they met along the way.