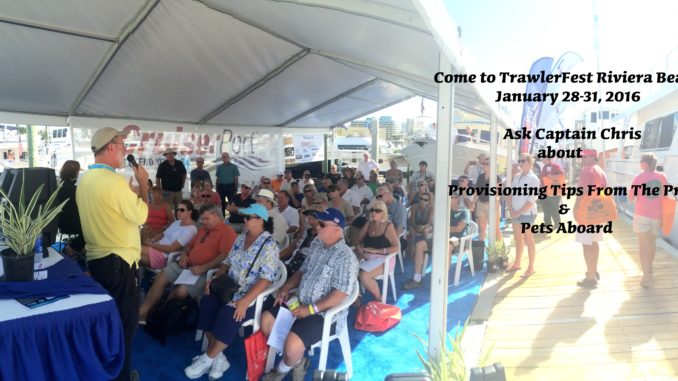 You'll find Captains Chris and Alyse at TrawlerFest Riviera Beach FL this January 28-31, 2016. Ask Captain Chris about anything boating at our booth or better yet…register to attend one of the many seminars that will help build your cruising confidence!
Provisioning Tips from the Pros, Friday, Jan 29, 10:45-12:45
Pets Aboard, Saturday, Jan. 30, 8:30-10:30
PROVISIONING TIPS FROM THE PROS – Captains Chris & Alyse Caldwell share much more than your typical shopping list. These experienced cruisers will help you learn what you should bring along to prepare for your cruise away from home port. Consider everything from spare parts and tools to first aid and groceries and how to replenish these supplies while cruising. Then where do you store these items? We will explore what works in the real world of boating and what doesn't. You just might rethink the way you've always done it.
PETS ABOARD – Don't leave your furry friend at home. Bring 'em along and keep everyone happy. Concerned about how to take him for a walk? Our own furry mate Bert will share tricks and tips to keep your four footed crew safe and sound, while Captains Chris & Alyse will present some of the finer points of traveling with your pet.
Registration will be open soon. Click here for more information.