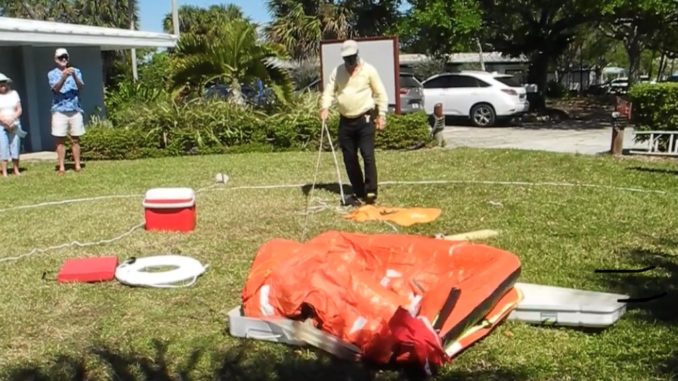 Safety Equipment Ready To Go!
So you have all the inflatable life saving equipment for your planned cruise. But please, make sure you know how to correctly use your Inflatable life jacket, throw rings, life raft and more. Captain Chris will help you understand how to use your life saving equipment and other things to consider when boating emergencies are about to happen.
Life Raft deployment is one of the most misunderstood pieces of safety equipment aboard pleasure boats. Can YOU Do It? Do you know what triggers the canister to begin to fill the Balloons? Is there a ditch bag inside the life raft? Don't assume anything. Know that your equipment is ready to go!
Witness the POP! And what comes after
We recently offered a live demonstration of inflatable life saving equipment at our local Power Squadron here in Vero Beach FL. Watch this video which captures most of the event including the actual POP! and inflation of a life raft. Check out our YouTube Safety Playlist for more videos of life rafts, personal flotation inflation and more.
Sorry that we cut it short but an audience member was overcome by the March heat in Florida and Alyse had to change hats from videographer to first responder. Yup, no snow for us this winter but all was well in the end. Let's hope your ending is a good one too because you know how to use all of your Life Saving Equipment. Just Ask Captain Chris! 772-205-1859