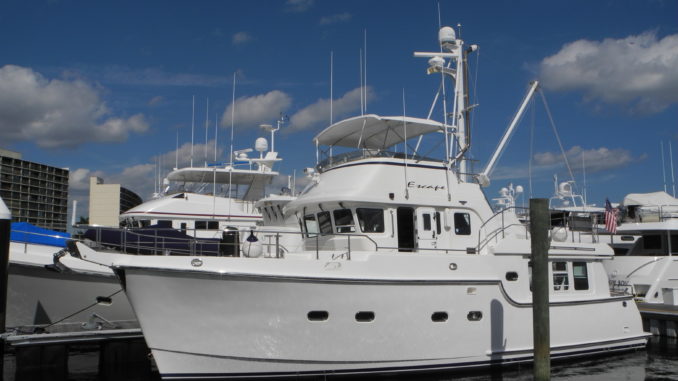 From Nordhavn Dreamers to Nordhavn Doers!
David and Wilma have purchased their dream boat, a Nordhavn 47.
Docked in Palm Beach, FL they asked me for a few days of training including below deck systems, generator, single engine, bow and stern thruster, stabilizers, inverter, "get home" (or wing) engine, fuel distribution system between the FOUR fuel tanks and of course a fuel polisher system.
After a few hours below we start the Lugger Diesel and head north to Fort Pierce, FL, the boat's new winter homeport. Because of the late start we don't get very far and start looking for an anchorage before dark. There are none so we then start calling marinas and cruise into The Bluffs for the night. David's first docking with this single engine trawler is easy, no wind and current the bow and stern thruster make docking a snap!
BBQ dinner and lights out, it has been a long day.
With all the crew up before sunrise, we check the fluids, grab a bite of breakfast, then cast off as the bright Florida sun starts to break the horizon. We easily cruise north in the ICW and soon approach Jupiter Inlet.
Because of the shallow water in this inlet we decide to stay safe and remain in the ICW. This is better for training because we need to open drawbridges, avoid sandbars and follow channels, all better training experiences. If we went in the ocean it would all be too easy. Just set the GPS Chartplotter for the Fort Pierce sea buoy, activate the autopilot and sit back and cruise along with a hands free helm. While this is great for cruising long distances this is not learning how to navigate around any obstructions that require some thinking and a little bit of skill.
Early afternoon we see it: R188! That is our turning point into Faber Cove Channel and their new marina for the rest of the winter season. Cruising into this great hurricane protected marina, once again David uses the bow and stern thruster along with the engine (walks right in reverse) to slide effortlessly into the slip, on the first try!
Dock lines and shorepower cables are deployed, engine shut down and the cocktail party starts….but not before we cover the dry stack! Watch our web site for "The Pole Dance" a Nordhavn ritual when placing the rain cap over the dry exhaust pipe.