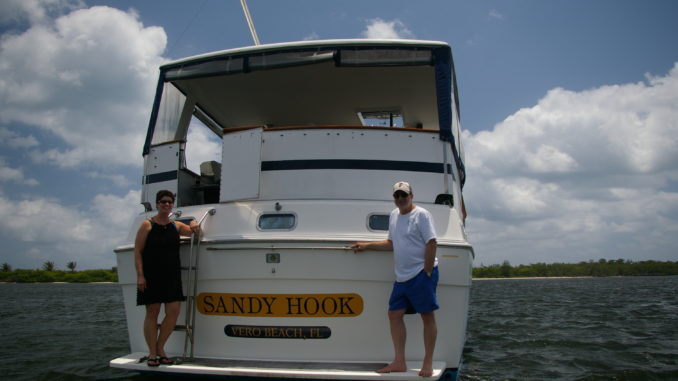 .
Summertiiiiiime! And the living is easy……easy if you are enjoying your boat.
What's that? Don't have a boat? Let Captain Chris Yacht Services help you start living the dream… Here's more to read about one lucky couple who spent 4 days living the dream with us aboard Sandy Hook this month.
Crazy as our schedule is, we still squeezed in a fun delivery. Check out a few details and some pretty pics of a beautiful trip aboard a Grand Banks 46 from Florida to Maryland.
Trawler Fest Anacortes Washington was a huge success! We've got the highlights from our two-day couples trawler training class just held in Anacortes WA. Hands-on practice will sharpen your skills together and help create an environment that will be a lot more fun. Our loaner trawler at the latest Passagemaker University is offered by Fathom Yachts. Their single engine 40 foot Element Pilot House is a perfect looper boat with bow and stern thrusters. Easy as Pie! Don't miss out on this terrific opportunity for both captain and mate to become comfortable with communicating effectively while boating. Register for the next PassageMaker University in Baltimore.
AGLCA Are you a Looper? America's Great Loop Cruisers Association is a terrific way to learn about the cruising lifestyle. At the Spring rendezvous many informative Seminars were presented in a relaxed and social atmosphere at the Grand Strand Resort in Myrtle Beach. While some members arrived by car and stayed in the hotel on site the majority of Loopers docked their boats at Barefoot Landing Marina to participate in this year's event. As a member of AGLCA you may access a daily internet forum to find out the latest particulars about the waterway and ask questions of those who are already underway. Don't belong to AGLCA? Contact us at Captain Chris Yacht Services and we can sponsor your membership. 772-205-1859
Fort Pierce Boat Show & Waterfront Festival – This Treasure Coast show was a blast at Marina Square in downtown historic Fort Pierce. Great music,delicious food and the Fort Pierce Fishing Tournament were featured during this fun filled weekend! More photos…
Captain Chris Cruising Calendar:
July 15-17, 2010 TrawlerFest- Warwick, Rhode Island – What a great time of year to be in the North eastern United states. This exciting event will be held in a charming seaside New England community of Warwick RI and Captain Chris will present classroom seminars "Couples Cruising" and " Dinghy DOs & DON'Ts" as well as a hands-on "The Right Knot for the RIght Job" demonstration. You won't want to miss out!www.trawlerfest.com
July 19, 2010 50th Anniversary of Merillyn's last Labor Day – Gene & Merillyn's baby turns the big five-oh. We'll be driving back from Rhode Island and breakfast will be with family in up state NY. Who knows which state we will be in to toast to 50 more?
September 22-26, 2010 PassageMaker University & TrawlerFest- Baltimore MD – Mark your calendar for Trawler Fest's new location for their fall annual event. More details as they come to us but we are really looking forward to presenting in one of our favorite boating cities.
Don't have a boat yet? Captain Chris Yacht Services can help. Give us a call and reserve time aboard our trawler SANDY HOOK…!