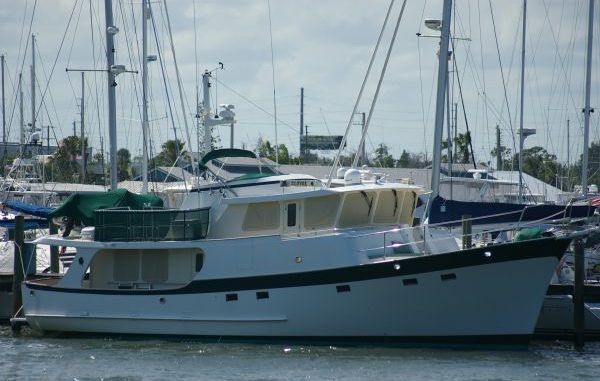 Vessel Type/Length – Kadey Krogen 58 Trawler
Engine Type/Horsepower – Twin John Deere Diesels
Economical speed – 9 knots
Starting Location – Fort Pierce, FL
I was asked to spend a morning with the new owners of a Kadey Krogen 58 Trawler. They have moved up from a Kadey Krogen 48 Single Engine Trawler that had an electric bow thruster. The new 58 has twin John Deere engines, two generator sets, active fin stabilizers and a hydraulic bow thruster. The advantage of the hydraulic bow thruster is you can operate it much longer than the traditional electric version. No circuit breaker to "pop" or batteries to wear down.
We started the morning reviewing the much larger engine room and systems, and then discussed the new electronic engine controls on the lower and upper helm and the starboard Portuguese Bridge Wing Station. This last feature makes side-to docking a breeze.
Ready to go we started the 20KW generator to operate the bow thruster then started the main engines. We pulled in the shore power, brought in the dock lines, cast off and headed south on the ICW to find some deep water out of the channel to anchor in. The windlass is also hydraulic and uses all chain. The depth meter was offset to read water under keel. We were at low tide and the chart showed 7 feet at our location. Naturally our depth meter showed 1.8 feet, a little scary but understanding the offset of the unit we were comfortable. After recovering the anchor we headed back to the marina to do some close quarter maneuvers, right & left circles to get used to the response of the bigger vessel. We did a few touch and goes at the fuel dock before making our final docking.
The couple is experienced with the 48 foot model and had no problems adjusting to this much larger and heavier 58 foot Kadey Krogen. Nice morning aboard.
abc