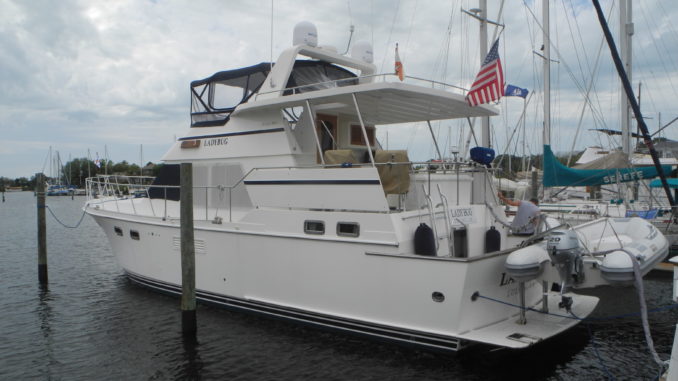 Mark and Laurie just purchased a trawler in Tarpon Springs Florida and invited us aboard to help build their cruising confidence. But that's not our first introduction so let's take a quick step back in time.
As with many of our clients, we met Mark and Laurie at a Great Loop Rendezvous before they even purchased their boat. After attending one of our presentations at the Looper event, they decided to join us for our in-depth Introduction to Boat Systems two day workshop.
Between registering for the workshop and actually attending it, this excited couple found a terrific boat in awesome condition. After completing our class in Vero Beach they went back to the boat with newfound confidence as the survey and sea trial proceeded. Feeling positive about this Heritage East with an aft cockpit they asked us to review their survey results. Ding! Ding! Ding! We have a winner!
Purchase completed, we happily drove over for four days of training above and below deck and finally under power and away from the dock.
We started by helping them both to understand everything below deck: anchor windlass, air conditioners, inverter, toilet systems, navigation electronics and of course the engine room with twin Cummins and an Onan generator. The winds continued howling so we spent more time with ground school and systems above deck.
When the last of gusty Spring weather relaxed (to below 20 knots) we head out into the waterways to practice maneuvers and docking skills. Back and forth in the surrounding channels, learning how this boat responds to gear shifts and changes in RPMs, both Laurie and Mark have turns at the helm. It's important to learn the turning radius of your boat and practicing in the nearby tight canal was great.
Many of our 180 spins took us past a few different restaurants and fuel docks. When we finally docked at one location the staff wanted to know if we were driving around scoping out the best fuel prices! No need for that as we had already checked out the WaterwayGuide.com for fuel information. We even filled the tanks with diesel for their upcoming Gulf crossing so they will be heavy when they take take the boat in open waters and home to New Orleans.
Tour our photo journal below to see more of this Heritage East Trawler…We appreciate their FIVE STAR FB review too!