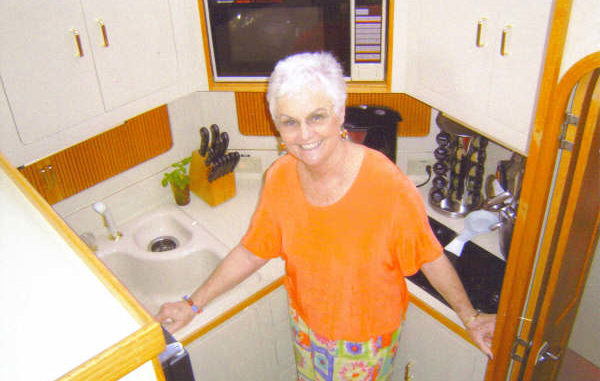 Here are a few quick and easy recipes from my mom who lives aboard her 38ft Pearson Minnie Gump Bugger V. She and my Dad enjoy entertaining aboard on a moments notice while they spend their summers in Long Beach Island at the Jersey shore.
MTP (More Than Pretzels)
Crush 3 cups PRETZELS. Melt ¾ stick of BUTTER, 1/3 CUP sugar. Add Pretzels. Spread in jellyroll pan . Bake @ 450o for 6 minutes. Break up into crumbs while warm. Cool & Store. Cream together 8 oz. CREAM CHEESE, 1/3 cup SUGAR. Add 1 18oz. Can CRUSHED PINEAPPLE. Mix by hand. Fold in 8 oz. COOL WHIP. Just before you are ready to serve, add pretzels and stir. Scoop it up with crackers and wait for the smiles.
BAKED ONION APPETIZER
In a bowl, combine 1 cup MAYO, 1 cup chopped SWEET ONION, 1 tbs grated PARMESAN CHEESE and 1/4 tsp GARLIC SALT; stir in 1 cup (4oz) shredded SWISS CHEESE. Spoon into a 1-qt baking dish. Bake, uncovered at 325o for 40 minutes. Sprinkle with parsley for a little zip. Serve with crackers.
CLAMS CASINO CASSEROLE
Take 6 or 8 slices of bacon, cooked until crisp. Break into small pieces. Combine 4 cans chopped or minced CLAMS, drained, 1 cup chopped ONIONS, 2 cloves of GARLIC, minced, 1/3 cup chopped GREEN PEPPER, 1 tsp. (or more) HOT SAUCE, 1 sleeve SALTED CRACKERS crushed into small pieces and ½ cup melted BUTTER (or margarine) into a shallow casserole dish and bake for 25 to 30 minutes in a 350o oven. Serve on your favorite crackers.
KOSHER KWICKIES
Dry off KOSHER DILLS WHOLE. Smear 1 (8oz) softened CREAM CHEESE onto 5-6 pickles. Roll in rectangular ham slice and slice the KOSHER KWICKIE into bite sized medallions. Yummy, pretty, fast and EASY.