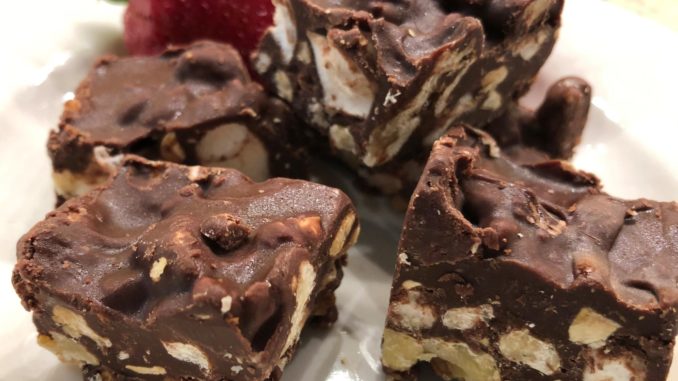 Foolproof Fudge
Here's an easy recipe to enjoy Foolproof Fudge aboard your boat. Most recipes for fudge are usually dependent on the humidity. Sometimes set up can be iffy, especially when you are around the water. This is a recipe that is very forgiving and you can add/subtract quantities with abandon.
Ingredients:
1 cup chunky peanut butter
2 cups semi-sweet chocolate chips
1/2 cup chopped nuts
6 cups miniature marshmallows ( or cut up larger marshmallows into smaller pieces)
Don't have the exact amounts of each ingredients? It will work anyway!
But if you don't have…
The original recipe calls for peanuts. I prefer walnuts or pecans. They are all delicious choices. And, I almost always have marshmallows in my freezer for s'mores over a bonfire or Chris's hot cocoa. Sometimes they are the larger marshmallows but they will work too. Just cut them into smaller pieces to mix well with the other ingredients. Let's see what you have in the cupboard before you head out to the grocery store. Creamy peanut butter is almost sacrilege in our family but I'm certain it will do in a pinch.
How to:
Butter up your 8″x 8″ pan…or your 8″x 12″ pan….or your round cake pan. This recipe is very forgiving and unless you can't tolerate misshapen pieces of lumpy fudge then don't worry about the size of your pan. A metal or glass pan works well. And, if you don't have butter and want to use Pam or a similar spray that's ok too.
Melt the chocolate chips and mix with peanut butter. While the original recipe calls for melting in the microwave, I prefer adding the chocolate chips to a big pot on the stove. No, you don't need a double boiler as long as you stir. Stir constantly on medium heat while melting. I like to use a flat wooden spatula. But a metal spoon will work too. Then just add everything into it as you stir. This should only take a few minutes.
Before it starts to set up, pour the mixture into your buttered pan and refrigerate. If you are making Foolproof Fudge as a gift, I strongly recommend you tuck aside some for you to enjoy later! I prefer to hoard the messy looking pieces in a ziplock baggie in my freezer for when the urge for chocolate overcomes me.
You're welcome!
Learn More
Want to learn more Galley Tips? Click here for our 40 minute instructional video. Or, join us at our next Cruising FUNdamentals and learn more about Galley Tips, Navigation, Anchoring and more. Keep it fun and your cruising will be amazing!