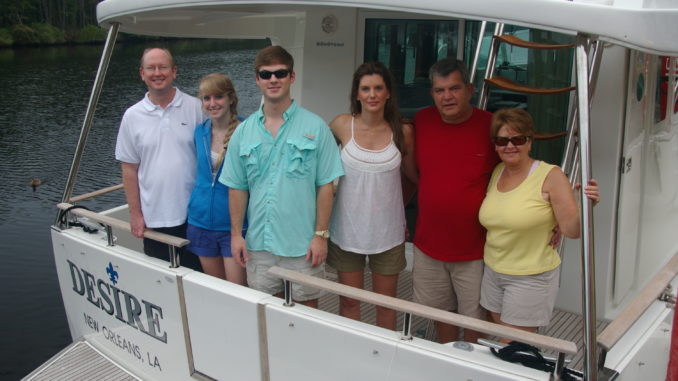 We live in Florida but are in New Jersey when we get the call from a doctor in Louisiana about a trawler training trip in Virginia. After a quick review of our handy dandy atlas we can easily rearrange our schedule to help these new boat owners. An entire family wants to transition from a trailer boat to their first cruising boat….owners Jacque & Trish with two of their kids Nick and Elise along with grandparents Dave & Mona.
This is a big step up from a single engine gasoline water skiing boat to all the systems aboard a 42 foot twin diesel, bow thruster, generator and dual air conditioners, not to mention the tonnage. But they are all up to the task.
As we arrive aboard the boat docked in Great Bridge, VA, we introduce everyone to the nautical terms used aboard larger boats and review all the systems…I mean everything from stem to stern, flybridge to bilge. We open every hatch and crawl space to see and touch everything. We even change the Racor bulkhead fuel filters, review oil change procedures and locate & test all electrical circuit breakers.
Whew!
Next morning we start our docking maneuvers in the slip, bow in, stern in and side to at the fuel dock. After achieving a comfort level we head south towards Coinjock, NC. Following along the ICW, we use the VHF Radio to request bridge openings and then run through Pungo to anchor in Currituck Sound. We were planning to head North to the Chesapeake Bay but a barge just hit the Gilmerton bridge between here and there and it was closed until an inspection could be completed. Another lesson- schedules on a boat are dangerous and flexibility will make the difference between a disappointing trip and a fabulous journey.
During our lunch at anchor we continue our discussion about vessel systems and navigation. A rain squall passes and we pull anchor, heading back to Great Bridge, VA where we practice more docking. You can never practice enough but it helps to do it in good weather.
On our third day we listen to the Notice to Mariners on the VHF radio and discover the Gilmerton bridge is A-OK  and open to marine traffic. Now we can head North. First we must go through the Great Bridge bridge and then enter the Great Bridge lock. We are fortunate to use the west side of the lock where the wall is rubberized and there is no need for boat fenders. When the lock doors open we let the other boats exit first so we can watch their maneuvers.
We work our way up the Elizabeth River opening a few more bridges before entering the industrial & US Navy section of the ICW in Norfolk. Here sits all types of support vessels, submarines and aircraft carriers, all protected by small patrol boats with machine guns. 9/11 is not forgotten.
We cruise into the Hampton Roads area where the James and Elizabeth Rivers join then head east into the Chesapeake Bay. Our goal is to round the Thimble Shoal Lighthouse and return to Great Bridge, VA for the evening. Luck is with us as we near the lighthouse. We see the new private owners of this historic lighthouse are doing maintenance and preparing lunch on the BBQ. The federal government has sold many outdated lighthouses.
Running south we radio to open more bridges then the lock before passing the last bridge and arriving home at Atlantic Yacht Basin. More docking practice before vessel shutdown and we review the three days aboard. A celebration dinner comes next…then it's back to the interstate as we head to our next training aboard a 57 foot Royal Passagemaker in Savannah Georgia.