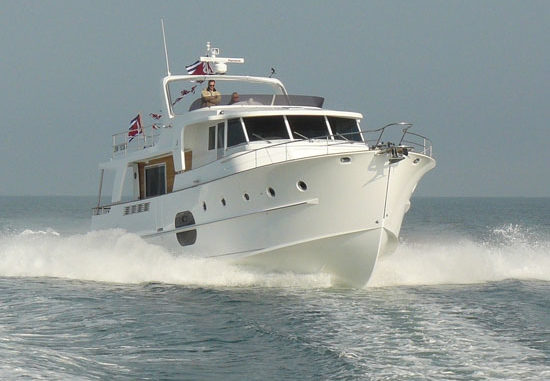 Vessel type and size – Beneteau Swift Trawler 52
Engine type and horsepower – Twin Volvo D9-575 HP
Economical Cruising Speed – 18kts/top speed 23kts
Starting Location – Port Everglades, FL
Final Destination – Fort Pierce, FL
Captain Chris Yacht Services has the pleasure of offloading this brand new 52 foot yacht, a truly SWIFT Trawler! Built in France, this NEW Beneteau model will formally be introduced to America at the Fort Lauderdale Boat Show but here's a sneak peek.
Click on the pictures below for your own look at this sleek Swift Trawler 52.
It's hurricane season here in Florida and Tropical Storm Fay made just enough noise to delay our offload by one day. Some of her extremely long feeder bands were dancing all around us but she gave us a short break while we launched from the ship.
Our shakedown cruise up the ICW to Fort Pierce was smooth and uneventful. In between the numerous manatee zones we managed to open her up to 23 knots. Boy! This is a wonderful ride. Click here to read what Passagemaker Magazine thinks about this Swift Trawler.