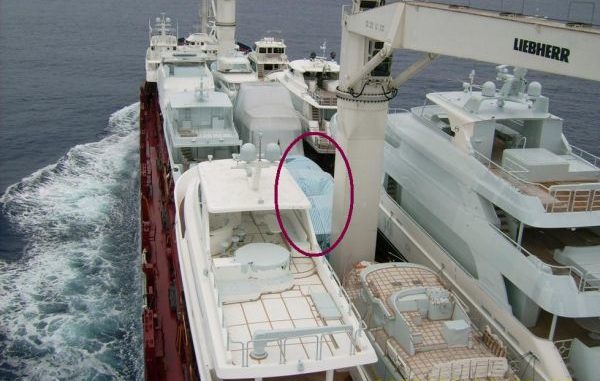 Vessel type/length – Krogen Express 52
Engine type – Twin Yanmar 6 Cylinder Electronic Control
Starting Location – Asia/Port Everglades, FL
Final Destination – Stuart, FL
The Krogen Express is a tribute to the elegant days of commuter boating. She's a genteel lady that glides effortlessly through the no wake zones at idle speed but she will knock your socks off when she's in high gear. Looking at the photos of the blue and white covered boat onboard the ship you cannot begin to appreciate her lines. Compared to the surrounding yachts you may think she is a small boat but actually the Krogen Express is Fifty Two Feet long.
Captain Chris Yacht Services was hired to accompany this grand dame from the ship in Port Everglades to her temporary home port in Stuart, FL. As plans go, we were scheduled to be the third boat offloaded. Plans? In boating? You know that guy Murphy showed up and delayed us awhile. Hurricanes Hanna and Ike had marine schedules in turmoil and this offload was no exception. Finally getting splashed 6 hours late, we were able to motor to Lauderdale Marina, fuel up and head north to Stuart, FL. Because the ocean was nasty from the impending storms, we bit our tongue and motored up the ICW. This part of the waterway is so congested with bridges and slow/idle speed zones we could not rev up on plane for a long time. Fortunately, her low profile allowed us to skirt past taller vessels and slide under many bridges.
Once we reached South Lake Worth we were able to speed up and run the boat as designed. Impressive! Even after hours of displacement speed and low engine RPM operation, we did not blow ANY turbo soot. I assume this is due to the new electronic fuel and air mixing system regulated by the ECM, Electronic Control Module.
As we neared Peanut Island we started loosing sunlight but were blessed with a Half Moon to help illuminate our way. Because this is a brand new boat- fresh out of the box – there are no electronics built in. We bring all our own temporary navigation tools including GPS Chart plotter and 25 watt VHF-FM radio. Hand held spot lights were appreciated but the moon was a big help.
Early the next morning we arrive at the boat yard in Stuart, a bit weary from our long adventure. We secure the boat for later hauling and customer options to be installed. We hose off the salt spray, hop in the car and go home to catch up on some much needed sleep.