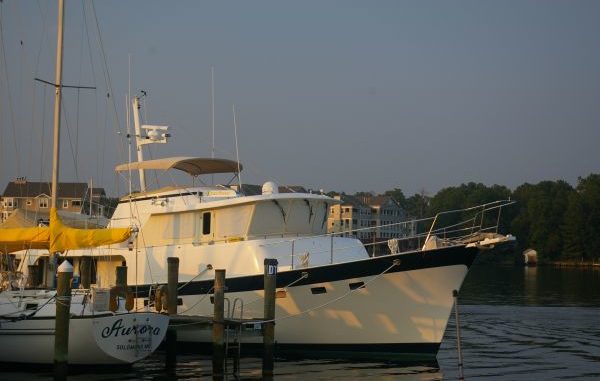 Vessel type/size – Kadey Krogen 58 foot Trawler
Engine type/horsepower – Twin John Deere 6 Cylinder
Economical Cruising Speed – Average 8.5 knots @ 1,650 RPMs
Starting Location – Vero Beach, FL
Final Destination – Solomons, MD
The owners of this fine trawler wished they could make the trip themselves but schedules didn't permit. So, they asked Captain Chris Yacht Services to take good care of their baby and deliver her to the Chesapeake Bay area where they will join her for the remainder of the summer. This is a beautiful ocean delivery on a 58 foot Kadey Krogen. This is what we do well.
Don't forget to scroll down and click on the photos for the rest of the story…
We board the boat in Vero Beach, FL with a crew of three as we plan to make a nonstop outside passage. We expect to run 5 days straight from Fort Pierce Inlet to the Chesapeake Bay and Solomons, MD. Because this yacht is in tip-top shape and our weather cooperates, we make the trip in 89 hours!
Outfitted with the best of electronics, we monitor the helm station from the roomy pilot house. The settee allows one crew member to relax and nap while providing the helmsman quick access to assistance if it's needed. The third crew member does an engine room check before going below to get some real shut-eye in one of the staterooms. Rotating like this every few hours lets us continue the trip without stops.
The electronic package includes AIS, Automatic Identification System. This feature allows us to identify all commercial vessels, their size, speed, heading and range. Few pleasure craft have this new technology but it is available and we appreciate this owner's forethought. We run in the Gulfstream during daylight hours and then move off to the western edge during the dark hours so we wouldn't be approached from behind by a fast ship running in the stream. The moon is absent every night and it is BLACK! We carry a night vision monocular to help us scan the horizon during nights like these.
Our first unusual sight is a small unlighted weather buoy just north of Fort Pierce. It's so small that you could easily pass within a few hundred yards and never see it. RADAR helps us identify a stealthy submarine off Cape Canaveral, FL. Spotting an occasional blip on the RADAR screen, we scan the ocean horizon in the twilight. Aha! There she is trying to evade detection. This submarine and some military ships do not emit an AIS signal so we keep a sharp lookout for other warships as we continue our northerly trek. A few days go by without ANY boat traffic before we come upon a US Navy LPD – Landing Pad Dock – offshore Beaufort, NC. We were so excited to catch a sea turtle taking a breath before he dove deep under the ocean surface. It sure is lonely out here.
As we near Cape Fear NC we have a close encounter with a 950 foot container ship at the same time that a huge vee notch Tug is gaining on our Starboard stern. We keep in radio communication with both to be clear of everyone's intent. They appreciate our call but want us to maintain our course. We like to stay well out of the way of the Big Boys. Study the photographs of the GPS – Chart/RADAR Screen with AIS targets. Very cool technology.
Our weather is great except for the occasional afternoon thunderboomers so we decide to continue around Cape Hatteras in the ocean. Still enjoying the boost from the western edge of the Gulfstream we make Cape Henry – Cape Charles by mid afternoon. We complete our journey to the Solomons in the dark of the night, arriving in the wee hours of the morning. Aaaaah. Uninterrupted sleep without the next watch looming in our dreams.
After a solid 7 hours of rest we are up and at 'em, packing our gear, completing our shutdown procedures and washing the boat until she sparkles. BOOM… The sky opens up just as we've shammied the last stainless railing. Oh well. We are heading home and we'll take a stormy day on the highway over a stormy day at sea ANYTIME!