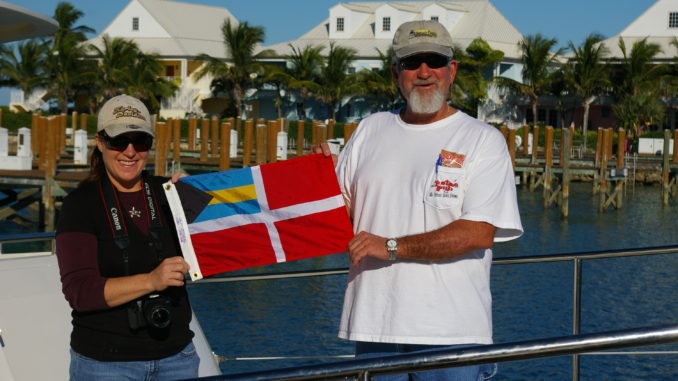 What a pleasure to cross the Gulfstream heading to the Bahamas in 8 to 12 foot seas! Yes, you read eight to twelve footers but any wave height is a pleasure when you do it in a Kadey Krogen 58.
A neat couple from Georgia asked us to help them transition from their 85 foot lake houseboat to this global cruise-worthy trawler and we gladly accept their invitation. Trawler Training combined with a quick trip to the Bahamas is so much fun that we hardly notice the squirrelly seas.
Let's first put out the disclaimer that this is NOT a typical trawler training trip. There are so many DON'Ts for a new cruiser: a tight schedule, entering an inlet at night, leaving the dock/anchorage into rough seas. But Jackie and David are troopers, quick learners and eager to see what their new Fat Bottom Girl could do. Don't worry about us…we'll address each of these don'ts and how we keep safety in mind throughout the adventure.
If you don't know the Kadey Krogen 58 design let us tell you it is truly a tough ocean cruiser, big and heavy with active fin stabilizers. When you are in rough seas the weight and stabilizers prevent the waves from tossing you about like a tub toy. On the morning of departure we also take on 1200 gallons of diesel fuel and 500 gallons of water adding to our ballast and stability. This reduces the pitch and roll we expect to experience. Twelve hundred gallons of fuel x 7 pounds per gallon equals 8,400 pounds of extra ballast (or 4 tons of weight).
We review safety procedures, install a snubber, practice launching the anchor and plan our crossing. Since the wind has been from the Northeast for many days and fueling up delays us further we smartly decide to cruise in the ocean to Palm Beach where we will anchor for the first evening. By cruising this direction we have following seas and the stabilizers are a wonderful thing. Arriving at Lake Worth Inlet sea buoy after dark could be a problem but we have local knowledge of this commercial inlet and are comfortable with navigating. We take full advantage of our night vision scope to see quite clearly. This is a great learning experience for the new owners with us aboard BUT not advisable for everyone. All hands are in the pilot house and everyone plays a role in spotting lighted buoys and scanning the surrounding water for other boat/commercial traffic. We run the lighted range between the jetty rocks leading us safely into Lake Worth. After intersecting the ICW we turn south to locate the Rybovich Yard area. We drop anchor in 7 feet of water just across from this famous landmark, careful to give room to the surrounding sailboats already swinging on the hook. Best lesson learned is you DO NOT want to plan for an arrival in a strange location after dark. Nothing appears as close or as far as it really is and if it cannot be helped then take advantage of all local knowledge you can get.
Day two has us up early to haul anchor and head to sea. The wind is still howling from the NE and the stream is headed north which makes for opposing forces and increased wave height. One goal for these new owners is to cross the stream in rough weather to get the feel for actual ocean crossings. We are fortunate (?) to have 8 to 12 foot seas with a N to NE wind. Another DON'T – crossing the stream with the wind from any Northerly component. They want the adventure and we aim to please…and the Krogen 58 is perfectly suited for the task. Beam seas ranging from large to very BIG and yet we are comfortable. Yes, the boat moves with the motion of the ocean but it is not severe. In fact we are able to prepare a nice breakfast and lunch as we cross. Side note: anyone who knows Chris is not surprised by this. He eats like someone who should weigh 1200lbs and Jackie does not disappoint with some wonderfully yummy dishes!
Early afternoon and it's Land Ho! The winds have diminished and the seas are now just gentle swells. We arrive in West End Grand Bahamas and clear Customs and Immigration. Just before we get into the harbour (British spelling here with a nod to our host country) we are greeted by two divers returning from a day of lobstering. They agree to meet us at the dock after we clear Customs and we strike a bargain for lobster and conch. What a terrific welcome!
Walking the docks later that afternoon we meet some boaters who have been waiting almost a week for their weather window to cross home to the US of A. They have lighter, fast boats that are not designed to handle the current ocean conditions and already had a difficult time crossing the Bahama Banks in the rough surf. A rum front has taken over and one wife/girl friend keeps repeating, "I quit!" and considers flying back home instead of making the return trip by boat. Weather becomes the hot topic and a decision is made for all the waiting boats to return to the US the next morning. The forecast is for 24 more hours of winds less than 15 knots so we'll do the same.
Jackie does an amazing job of taking us off the dock, out of the harbour and out into the Atlantic Ocean. Heading home we plot a course directly to Fort Pierce which is a bit longer than to West Palm Beach but we'll get a kick from the Gulf Stream. Setting the autopilot, we cruise at 8.9 knots and settle down for another ride in the BIG BLUE. This time the seas are on our starboard bow and we took THREE splashes across our windshield. NOAA was a bit lenient predicting the winds but the Portuguese Bridge does the job it is designed for. Again we prepare our breakfast and lunch as we cruise in the ocean. This is a surely a testimonial for the KK58! We love this boat and these new owners are pleased with what they experience for sure!
After a car drive to Immigration at the St. Lucie Airport we return to FBG to plan the next day's trip on the ICW. There is much to learn about how she handles in the confines of a shallow channel, too. Bridges and currents can be challenging and launching the dinghy while at anchor takes some practice in the wind which just won't ease. Brimming on the edge of information overload our students are sponges taking in everything we can offer. In just a few short days this couple is confident that they can cruise the oceans of the world…someday.