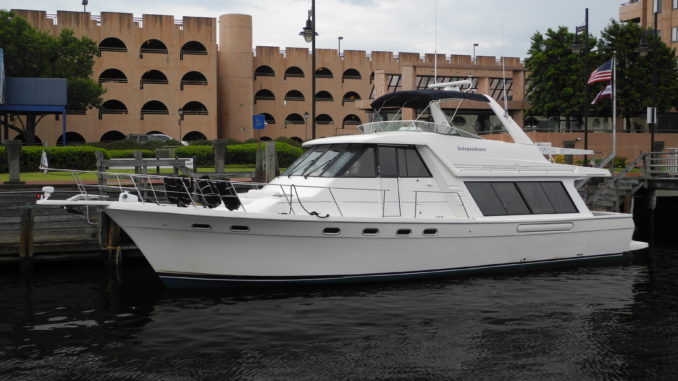 When you train with Captain Chris it often starts like this:
Hi Captain Chris and Alyse. My wife and I met you both at the AGLCA spring rendezvous two years ago when we were first getting serious about starting to plan for the loop. My wife is going to retire next year and we plan to begin the loop in 2017, but we are actively looking at buying our loop boat within the next six months so we can get some experience before we strike out. I have no experience with anything bigger than my 28′ I/O that we currently have and when I find a boat, I would like to hire you to teach us the ropes. Being rank amateurs with a boat the size we are looking for (40 to 44 Motor Yacht), twin engines, diesels, electronics, or other equipment on board, we definitely need help...Depending on where we find the boat, maybe we could do a delivery/training at the same time…We thoroughly enjoyed talking with you when we met and look forward to working together. Thank you so much.
So off we went- Captains Chris & Alyse – to Norfolk for a few days of training onboard their Bayliner 4788. First, we crawled through below decks to introduce Ken & Linda to so many systems that are new to most boat owners. Next, we did above deck work- line handling, anchor tips, navigation & electronic systems. Then we got right to it: Docking! Docking! and more Docking!
Close quarters maneuvering tends to be what we all worry about the most. But with some coaching from Captain Chris  and lots of practice we can settle those worries. Before you know it bringing your boat into the slip can become just like parking your car in the garage. Ken had to learn where his blind spots were and how the boat responded to adjustments in throttle and gears. And Linda learned that the best mate can make her captain a success. And we had fun throughout the training which is what it's all about!
A few months later they worked on their below deck confidence, building a vacation to Florida around one of our Boat Systems Seminars. After completion their DIY projects were easier to accomplish, keeping the budget in check.
Fast forward to one year later…Linda is ready to retire and has decided she wants to learn the role of helmsman too before they set out on their big adventure.  Short trips on the ICW have given them both the confidence but now they want to stretch their traditional roles.
With plans for us to come to Norfolk for the Great Loop Rendezvous, Ken & Linda invited us a few days early to address their new training needs. A quick brush up on the below deck systems gave Linda the self-assurance of a helmsman preparing to start the engines and before you know it we are pulling away from the docks.
Practice indeed makes perfect so we found a variety of different locations to dock – side tie, floating, fixed and an assortment of slips. Bow in and stern in, Linda and Ken polished their newly learned skills in reversed roles. It was awesome when loopers met Linda at the rendezvous and said," We saw you docking this weekend and were impressed!" Some were even inspired to consider reversing roles on their own boats!
The best plans this couple have for preparing to do the loop is to set out on a few different 2-3 weeks trips this summer and fall to really get comfortable on their boat. Then when they head out on a year long journey their cruising confidence will be practiced and polished, ready for a new adventure every day!