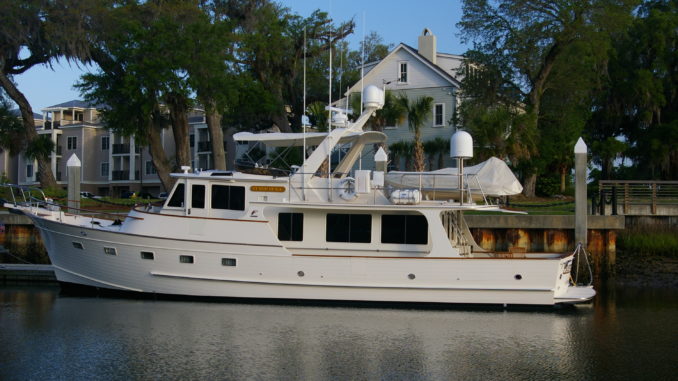 The owners of this fine cruising yacht have never made an extended non stop ocean voyage. Captain Chris Yacht Services specializes in this type of hands-on training and offers off shore experience as well as serving as extra crew when a long trip is planned.
We are introduced to the owners of Leatherback by another satisfied client and are pleased for the referral. With a good weather forecast we'd like to run straight from FL to Charleston, SC, so we hopped aboard this Fleming 55 in Fort Pierce FL.
Over the winter season these owners prepare and plan for their northbound spring return trip and have new electronics installed including an AIS, B unit. The Automatic Identification System (AIS) is a device that is available in an A style or B style. The A style is required aboard all commercial vessels transiting the ocean waters. The A style AIS transmits the vessel name, MMSI, length, direction and the next intended port of call. The B style is more economical for pleasure boaters because it is more affordable but DOES NOT transmit your vessel information. The basic understanding is you know all about the ship but the ship only knows you're there through RADAR. Use your incoming information to know the big boys are on the water and stay out of their way!
Our voyage is fantastic; everything works as planned with no breakdowns. Hooray!
Our philosophy about watch keeping is a bit nontraditional. After all, we are not usually nocturnal animals and sleep is what our bodies crave as the sun goes down. Whoever is at the helm drives until tired. If it happens in 1 hour then we switch off. No point in trying to stay awake resulting in slower responses and bad decision making. We are fortunate to have 4 people aboard so crew fatigue is never a concern. The second crew member stays in the pilot house resting on the day bed while the other 2 crew members are "off duty" and sleep below or watch satellite TV. I didn't say we are roughing it!
Our AIS is a terrific asset, especially when we near Jacksonville Ship Channel and then Charleston Ship Channel. We approach Charleston in the late evening, well after sunset. When entering a ship channel in the darkness try to have your crew rested so they can make sense of the strange lights ashore. It is difficult to detect the navigational aids and the city street lights. Fortunately we have much to rely on including our new electronics, binoculars and RANGE LIGHTS. Cruising along in the channel we pass buoy set after buoy set staying on range until suddenly the range lights disappear! Think fast, what blocked out the lights? A ship…a BIG SHIP. Our RADAR is on 1.5 mile range and the ship is just over 3 miles away so it is not showing on our scope. We could easily have missed it but good 'ole basic instincts prevailed. A few minutes later we pass the ship and cross the three large bow waves, like a bucking bronco SPLASH! SPLASH! SPLASH! Then a few minutes later we pass the stern waves a bit more prepared for their size as we slow our speed to cross them. This is good to remember in the darkness because the second set of waves may catch you off guard.
It is good to be inside Charleston Harbor as the weather is starting to turn. Winds are increasing and the seas are beginning to build. Timing is perfect for our landfall but our journey isn't over yet. We still must find a condo dock in the dark, a dock where none of us has ever been. The wind continues to howl and we must crab to stay in the tight entrance channel. Fortunately our directions are perfect and we enter the correct dead end canal. A few tall buildings shield the gusting wind and before you know it we are in the right slip. Smiles break out all around as we adjust our lines- we have a stowaway! A flying fish must have landed on our back deck when we were out in the Atlantic. Hmmm. Bad ending for the fish, great ending for Leatherback. Connecting our electricity and we're all thinking the same thing: Sleep! Restful, peaceful, uninterrupted sleep!
These owners have a new respect for non stop ocean voyaging and we're glad Captain Chris Yacht Services could come along to help make the journey a success.
Vessel type / length Fleming 55 Motor Yacht
Engine type / horsepower Twin Caterpillar V8, 3208, 375 HP
Economical Cruising Speed 10 knots
Starting location Fort Pierce, FL
Final destination Charleston, SC