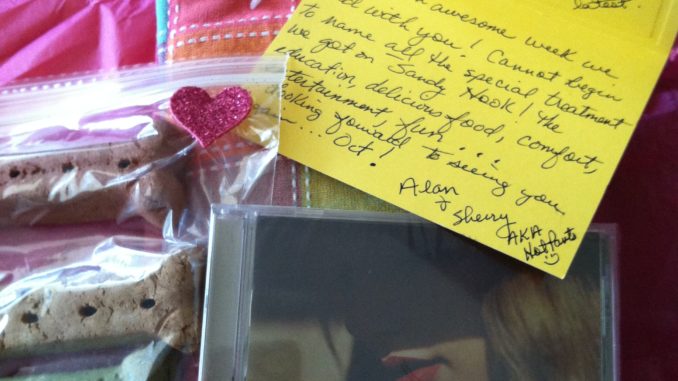 They say a picture is worth a thousand words…this thank you package arrived just days after our training trip with this Georgia couple who learned that a trawler could be in their future.
Spending 5 days aboard with us allowed both Alan & Sherry to become comfortable through hands-on training.They started as students and left us as friends! We really appreciate their thank you package created just for us!
Initially Sherry had only one goal: to dock pretty. Soon she was at the helm, navigating, line handling in the locks and setting the anchor for a good nights sleep. Understanding the below deck systems came easier than she expected too. And yes, she learned that she can dock pretty!
Alan truly has an equally enthusiastic partner and together they were building their cruising confidence, learning about what their next boat should offer. During our training together we introduced them to gold loopers aboard a wide variety of boat styles, helping them to discover options for their perfect cruising life…
Let Captains Chris & Alyse help you live your dream! To learn more about How To Start Your Boating Adventure. Click here.