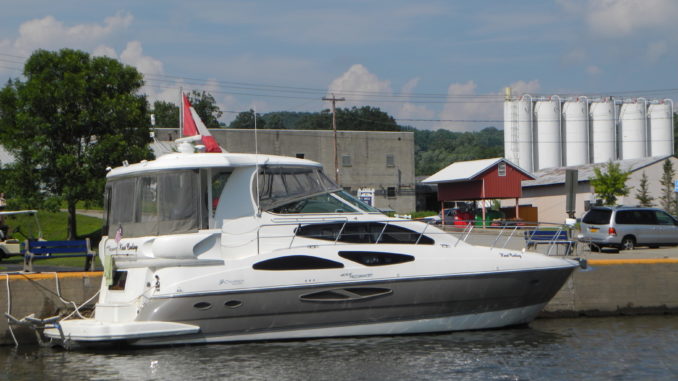 We received this note from a very happy new boat owner…see why he was delighted he decided to AskCaptainChris!
We bought our boat in Midland Ontario, a Cruisers 455. We are now safely in Charleston, SC
Curtis Stokes was our buyers' rep. We had made a couple of offers before working with him, which in retrospect could have gone really bad. He stuck by us through the entire process, including a flight to Toronto, 2 hour trip to Midland, and a sea trial and inspection that the selling broker didn't even bother to attend. He supported us through negotiations that ended up being with a bank rather than the seller, and led us through the entire reintroduction of US goods (technical term). He's calm, factual, and I will never buy or sell a boat without his involvement…

…Then there was Captain Chris. We got to Buffalo on a Tuesday, 7/22 and unfortunately had to go through customs (another story). Our first day was one of the worst storms I have encountered on the water, which delayed us one full day. He took the time to school me on nav and other systems, and to get us ready for the trip…food. Our next day was up at 5am to the Welland. We exited last lock at 10pm, and took another hour to get to a marina. This, by the way is one day's fee. I counseled Chris that this should be two days, too tired to realize I was trying to negotiate with myself. Our next days were filled with lessons that as a boater of 30 years I didn't even realize I didn't know. We even learned how to get towed when things could go really wrong (yet another story). In short, Chris seemed truly interested in getting me prepared for our trip, and in the meantime became a good friend. I got double coverage with training and transport, he didn't seem to mind. For Chris… "Patton said never outrun your supply lines." ( and, you pilots rely too much on instruments).
Want to learn more about How To Start YOUR OWN Boating Adventure just Ask Captain Chris and click here.