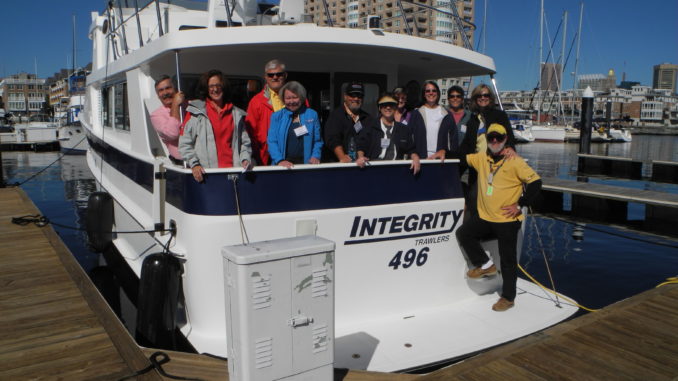 It was a whirlwind week at Harbor View Marina in Baltimore's Inner Harbor. Long time cruising friends joined first time attendees at the most anticipated boating event this fall. And the John W. Brown did not dissappoint as an ideal location for the 90 minute classroom sessions throughout the week.
Captain Chris was invited aboard one of the tugs that moved this historic Liberty Ship from its berth in Dundalk to its temporary home at TrawlerFest in the Inner Harbor. Mother nature shined in all her brilliance as this World War II classic came into port on Monday. Here is a short video clip from the tug's perspective.
When University classes started Tuesday morning we boarded our loaner classroom for the next two days, a single engine 49 foot Integrity Trawler. A fabulous layout and design for the 5 couples and their hands-on learning with Captains Chris & Alyse. We were able to experience the benefits of a wide body cabin as well as pilot house and fly bridge helm stations. Everyone had a turn at the helm as well as time in the engine room with pre-cruise checks. We all experienced the skills required of a good mate in line handling, knot tying and fundamentals of navigation too.
The next four days were a wonderful blur of seminars, dockside demonstrations and meeting very excited students who were so eager to absorb everything TrawlerFest has to offer.
We premiered our first two Ask Captain Chris training DVDS at Baltimore and now have our third available. "Docking", "Bridges" and "What is the Perfect Boat…For You!" And have so many more to come before the year is out. The DVDs were a big hit at TrawlerFest and we are so glad to be able to share our experience with those who aren't able to schedule time aboard with us.
TrawlerFest brought students from as far away as New Zealand and attracted many who returned for their second and third time to not only see some wonderful cruising boats but also rub elbows with those who are actually doing it and brought their boats to the show! If you missed out on this incredible boating event then mark your calendars for TrawlerFest in Florida March 2014. Registration opens in November.