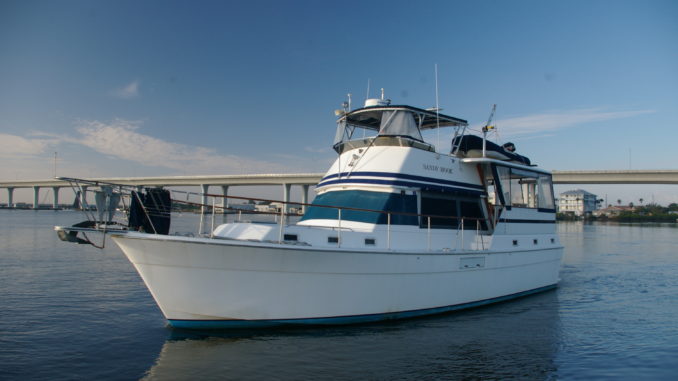 We are meeting more converts every year. RV travelers see the light and transition over to the cruising lifestyle. After visiting every state (except Hawaii, NJ & RI) by RV this couple want to see America from the water's edge just like our forefathers who settled our country.
(NOTE: We no longer charter our boat but are pleased to come aboard YOUR boat anywhere for personal training with you and your mate)
Via the Intracoastal Waterway or as we call it the ICW, a cruising boat can traverse Lakes, Bays and Sounds visiting many of the ports that helped form our nation. From Baltimore with the Star Spangled Banner to Norfolk, the largest Navy Base in the world then onto New Bern, NC the birthplace of Pepsi Cola and other patriotic locations that are best seen from the water as you cruise long at displacement speeds.
After a Welcome aboard and a good night's sleep, we enjoy breakfast on the aft deck of our trawler. We discuss goals so we can focus on what they want to learn during this training trip. A few items on their wish list include deciding what size boat they would need, single or twin engines, fast or slow, navigating and trip planning. All business behind us, we start preparation for the next few days.
Follow along with our photo journal below. It is Spring in FL and we love it!