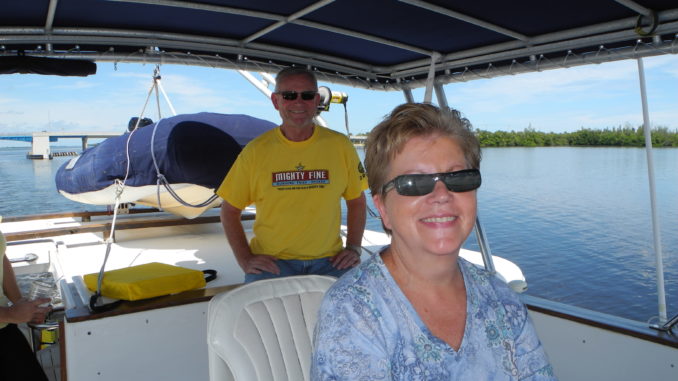 This couple contacted us almost 6 months before coming aboard for boat training with Captains Alyse & Chris. Their plans included retirement next year and then starting the Great Loop…almost forgot…first they had to buy a boat.
(NOTE: We no longer charter our boat but are pleased to come aboard YOUR boat anywhere for personal training with you and your mate)
Realizing there is a lot to learn about cruising is an important first step. This Texas couple are like most of our clients who want to get some experience with us before they start out on their own. They scheduled a Florida trip to learn aboard with us in the fall then planned to find the perfect boat. Well, their plans got a bit jumbled. Just before their arrival in Florida they found a deal in Texas too good to pass up…. A 1996 Carver 440 Aft Cabin was in their sights. If all went well with a survey they would be closing on it about 3 weeks after they finished training with us.
So everything learned aboard our trawler had comparisons in mind- how will we do this on our Carver? It helped that we had some experience on many Carvers and could answer those questions.
The next dilemma was getting the boat from Texas to Florida where they hoped to be the following spring. As self professed Looping Newbies they had concerns about starting out with some open water passages right off the bat. Because of our client base we had another connection that made the how will we get the boat from Texas to Florida discussion a little easier to consider. A couple who trained with us last year would soon be starting on their loop from Texas and were delighted to be a resource having just completed the Gulf coast route from Florida to Texas.
The looping we refer to is cruising in a big circle around the waterways of North America including the Gulf and Atlantic ICW, the Great Lakes and the inland river systems, finishing exactly where you start out, thereby making a circle. The America's Great Loop Cruisers' Association is a terrific resource for Looping Newbies and starting your training with Captain Chris is a terrific way to prepare in the basics of navigation, maneuvering and understanding all the systems of a cruising boat.