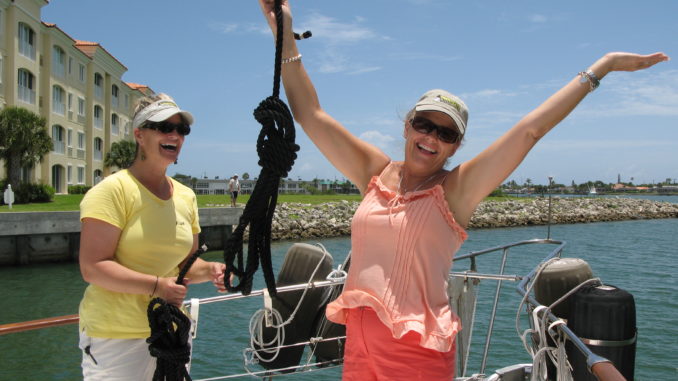 WE DID IT!!! These words are music to our ears and are words we often hear from our clients after they spend time aboard with us….When you learn with Captains Chris & Alyse you are Building Cruising Confidence and we are so glad we can help you start Living the Dream.
Here are some recent notes from some of those who DID IT and are thrilled with the adventure. Word has gotten out how much fun a trip with Captain Chris can be…Don't miss out. Now booking for December through February 2013!
NEW opportunities in 2013 to Live the Dream with us. Join Captains Chris & Alyse and learn to cruise the Florida Intracoastal Waterways while enjoying the warm southern weather this winter. In addition to your choice of a two to five day round-trip trawler training  on the Treasure Coast, we've added TWO ONE-Way excursions for your selection. From Fort Pierce to Fort Lauderdale and back to our home port, each one-way trip allows you the additional experience of anchoring in new locations, maneuvering through multiple draw bridges and don't forget the stunning scenery while we travel to or from the 2013 Trawler Fest.
Call us 772-205-1859 or email to schedule your adventure of a lifetime.
If you'd like to take a peek at some of our recent training trips, here are a few teasers to whet your whistle…
Aboard Our Boat in Florida…
…Or Aboard Your boat ANYWHERE!
Need safety equipment or guide books for your boat? Then check out a few companies we recommend on our Ship's Stores page. Let us know what you think when you use these products. We wouldn't be without them on our trips!
CAPTAINS' CALENDAR OF EVENTS:
Want to get away to warm, sunny Florida next season? Don't miss out!! We are filling our calendar fast. Make your reservations now aboard SANDY HOOK – our 44 foot training trawler while we still have a few trips available. If your calendar doesn't work for any of our scheduled events just create your own private cruise aboard SANDY HOOK anytime. We have sunshine not SNOW in the winter and for summer there is always a cool ocean breeze! Email or call us 772-205-1859 and start living the dream. But don't hesitate or you'll miss the boat! Booking now for December through February 2013.
Check out our Facebook page or YouTube Channel for what's happening in the trawler world.