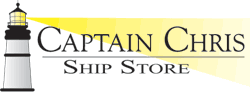 Captain Chris's Ship Store
http://www.captainchrisshipstore.com
Captain Chris Yacht Services is a husband and wife team of cruising coaches. We have been training couples for many years with hands-on boating. Now our years of experience are also available to you through training videos and at work-shop seminars in Vero Beach FL. Browse through our video library for you or your favorite captain. Then see which boating seminar you'd like to attend. Great gifts for you and your favorite crew member.
---