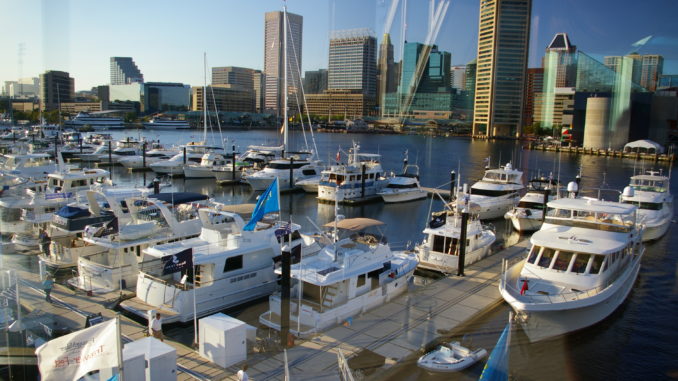 Is it time to Start Living the Dream of a cruiser? Come join us at TrawlerFest Baltimore….September 26-29, 2013. We'll have wonderful seminars, training DVDs to help you begin your adventure and plenty of time to Ask Captain Chris everything you always wanted to learn about boating.
Captains Chris & Alyse will present:
How We Did It – From their first weekend adventures to living the dream aboard a 44-foot trawler, your eyes will be opened by Captains Chris and Alyse Caldwell as they share their experiences cruising together- what works to Build Cruising Confidence. This presentation is a must for future cruisers who are wondering how it can be done.
Anchor Techniques – Learn how set your anchor on the first try and have good night's sleep swingin on the hook.
AGLCA BlogTalk Radio – Join us for a live on location radio show at TrawlerFest. Let us know what's on your mind about the cruising lifestyle.
Confessions of a Galley Slave – Planning a boat trip? Going cruising for a few months? Capt. Alyse Caldwell shares ideas, shortcuts, and hints that will make your time in the galley another fun adventure. All of Alyse's galley recipes are easy to make and can be prepared with a one-burner stove or toaster oven and 1 square foot of counter space, as well as in the spacious galley of a larger trawler. Like everything else in life, you need to start with the right tools for the job. When cooking aboard, it's essential to be creative and keep your sense of humor. With the right attitude, everything tastes better on a boat.
Cruising the Chesapeake Bay – Come along with Capts. Chris and Alyse Caldwell as they share their favorite anchorages, marinas, and popular destinations of the Chesapeake Bay. Starting at the southern end of this historic estuary we will cruise north to Baltimore's Inner Harbor and continue on to the C&D Canal and the Delaware Bay. This 180-mile cruising ground includes waterfront settings like Deltaville, Virginia, Pocomoke, Maryland, Washington, D.C., Annapolis, Baltimore, the Rappahannock River, and Sassafras River. Serene anchorages, convenient mooring fields, and popular marinas are all part of cruising the Chesapeake—you can cruise all season and never go to the same place twice!
And even a Couples Roundtable where you can chat with many of us who are out on the water DOING IT!
Will you be here in Baltimore with us in 2013?