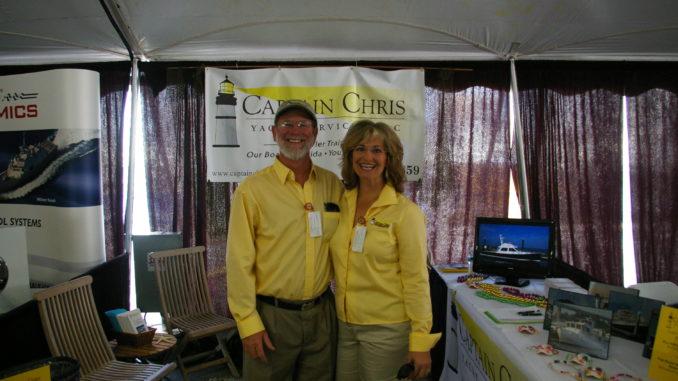 Trawler Fest Fort Lauderdale is a terrific success. In years past, Trawler Fest was in Stuart Florida but needed a location with marina space to handle larger trawlers, both longer and deeper draft. Bahia Mar Marina and Hotel is a perfect choice. Being in the middle of the Venice of the Americas, Bahia Mar is easily accessed by the ICW, Atlantic Ocean, Fort Lauderdale International Airport or I-95. You don't need a car, everything is nearby. The Atlantic Ocean and beach are across the street, restaurants and nightclubs are walking distance.
The Seminars are held inside the hotel across with the banquet rooms across the way for lunch and diner. Boats in the marina are all accessible through the tent that sheltered the land exhibits. Yes, we need shelter from the Sun even in January down here in FLORIDA.
New boats introduced at Trawler Fest included the Kadey Krogen 52 three stateroom trawler and a Mochi Hybrid Trawler with a bulbous bow. The Mochi has a MAN-ZF vee drive with an electric motor-generator sandwiched in between the transmission and diesel engine. The Mochi Salesman said the trawler could operate at cruise speeds for 12 hours on pure battery! WOW.
We are asked to teach a new PMU Passagemaker University program Building Cruising Confidence as a Couple. We are fortunate to have a new Krogen Express 52 loaned to us for the 2 day program preceding the 3 day Trawler Fest. During Trawler Fest we have an exhibit in the tent and are also asked to present 2 seminars, All About Anchoring and The Right Knot for the Right Job. Although both of these subjects are basic, everyone would agree they are essential skills for all boaters to master. We are blessed with a standing room only audience.
Watch the Trawler Fest web page for seminars we will present at future locations. www.trawlerfest.com