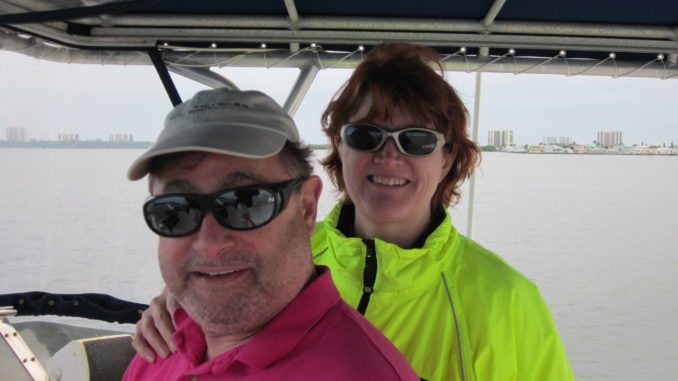 What can you do for the week after Thanksgiving when you live in the Arctic North? You can dream about cruising in Sunny Florida or you can come aboard with Captains Chris and Alyse and LIVE the dream.
Owners of the Sundae Sweet Shop in New Jersey did just that!(NOTE: We no longer charter our boat but are pleased to come aboard YOUR boat anywhere for personal training with you and your mate)
We first met this couple at TrawlerFest last January in Fort Lauderdale. We spent time with them and 6 other students aboard a Beneteau 52 Swift Trawler, learning to Build Cruising Confidence as a Couple during our two-day TrawlerFest University course. This class was the confirmation that Paul and Denise needed- cruising was in their future…but what kind of boat would meet their cruising needs?
During the next ten months they looked at trawlers of various sizes and floor plans, keeping in mind many of the boat handling tips they learned at TrawlerFest. Now they were eager to learn first-hand about living aboard and cruising. Was 44 feet enough space? Would they be comfortable cruising for a few days at trawler hull speed? Galley up? Galley down? Stand up engine room? They hoped to get answers to these and other questions before selecting their dream boat.
Time aboard with us would also allow Paul & Denise to practice what they learned in the classroom with their local Power Squadron. Navigation makes more sense after so much hands-on time at the wheel of SANDY HOOK, using the GPS, RADAR, compass and binoculars. Anchoring each night helps explain why we need at least a 7 to 1 ratio- water depth to anchor rode. And, don't forget to add the distance from the water surface to the anchor pulpit. Sounds like Greek to you? Poseidon and Triton can't begin to explain it as well as living aboard while learning can.
So, they hopped on a plane and met us on Florida's Treasure Coast ready to learn everything we can experience in 4 days aboard our 44 foot training trawler. Nature cooperated and with balmy temps, and conditions changing between sunshine and sprinkles, high winds and mirror flat seas they were able to discover what their future could be like.
With sweet cruising dreams dancing in their heads, they bid us farewell heading off to see a few new boat selections, a Hatteras 42 and a 58 Long Range Cruiser. Now they could truly envision maneuvering, anchoring and Living the Dream.