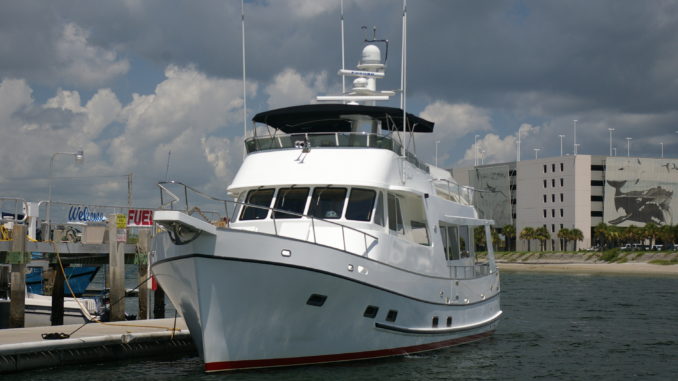 Vessel type/length – Royal Passagemaker 57
Cruising speed – 8.5 knots
Engine type – HP Single CAT 3300, 6 cylinder
Wing engine, 4 cylinder ISUZU
Delivery from – Marriott Hotel & Marina, Stuart, FL
Destination – Brunswick Landing Marina, GA
Some insurance companies require vessels to move from the Hurricane Zone out of Florida State waters. Brunswick Georgia meets this requirement and is the southern most deepwater port with good hurricane protection.
The Royal Passagemaker is a true Ocean Passagemaker. She rides true and straight in the seas and is aided by active fin stabilizers. While underway during a long ocean voyage all aboard are treated to comfortable and contemporary interiors. Three staterooms, a roomy pilot house and a large saloon allow owners and crew to have some private space during the trip. The full side decks permit walk-around movement during the cruise- both port and starboard. This is quite convenient when docking as well.
Our trip begins in Stuart with the high tide so we can use the St. Lucie Inlet for easy access to the ocean. We start the main propulsion engine, the wing engine, the hydraulic bow thruster and of course, the generator. After casting off we take advantage of the starboard mounted wing engine to maneuver away from the dock by using the twin engine method and the bow thruster.
Easy enough, we head out to sea and then shut down the wing engine. Killing it in gear helps to feather the folding propeller. As we steer north toward Cape Canaveral setting the autopilot, we relax and enjoy the beautiful clear waters of the summer ocean. Flying fish lead us north then the dolphins join us for awhile.
This ocean voyage averages 30 hours but we have a surprise this trip. We heard a general announcement by the USCG Cutter on the VHF radio asking the vessel at X lat and X longitude to respond. That's where we are! A quick acknowledgement of our position and our vessel name and sure enough, the Cutter is looking for us. Well, they are looking to AVOID us. We are asked to steer clear with a 4 mile radius because they are escorting a vessel. Just north of the Jacksonville shipping lanes, we use our high power binoculars to view a submarine conning tower between two escort vessels. We can only assume they are heading into Fernandina, FL St Mary's River for the sub base in Kings Bay, GA. Check out the photo below of the sub between two escort vessels but understand this was a 4 mile distant photograph!
The rest of the trip is filled with the wild displays of huge pods of dolphins, hundreds of flying fish and a few tarpon jumping. The wind has changed direction over the past 2 days and seas are building from the southeast. As we near the Brunswick Sea Buoy we decide not to short cut the buoy because of the very large sea swells following us. Something must be brewing in the south. We hope it's not a tropical wave!
The distinctive lines of the Brunswick bridge greet us as we near our final destination. Because we deliver a lot of yachts and trawlers to Brunswick Landing Marina we have made many cruising buddies here. This evening 4 of our former boat neighbors from Marathon Florida Keys come out to greet us and help tie up. We secure this fine ocean going yacht, shut down all her systems and hop in a car for dinner ashore at the local Pizza Parlor, Foxes. Our sea legs wobbling, our bellies full…..a full night's sleep beckons…. for tomorrow we CLEAN!