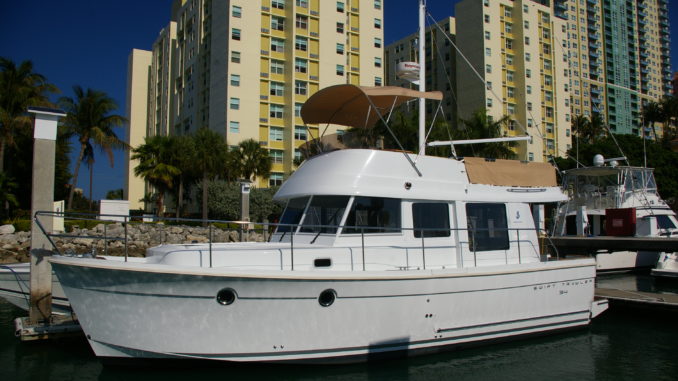 Early Monday morning we arrive at this brand new sporty Beneteau Swift Trawler 34, hop aboard and do our safety checks in preparation for a delivery to Miami Beach. The new owner won't be aboard our trip from Stuart, FL to see how well the boat handles…there's always tomorrow when we do trawler training.
After casting off we make a quick stop at the fuel dock at Sunset Bay Marina to fill up the diesel tank, ready for an off shore run. The Roosevelt Draw Bridge opens just in time – three bridges, no waiting! St Lucie Inlet here we come!
The crossroads are the intersection of the St Lucie River and the Indian River Lagoon so we proceed with care picking out the often relocated buoys. Be cautious when navigating around the new sandbars. Finally in open water we steer south and set the autopilot, averaging 18 knots all the way to Miami. We could go faster but with the following seas this was the right cruising speed.

Entering Miami Government Cut we steer north into Miami Beach Marina and secure the ST34 in her temporary slip for the new owners to arrive the next morning. Beautiful boat and a great day in the ocean.