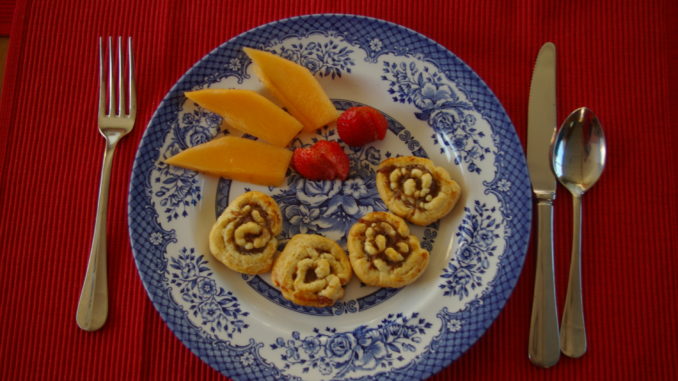 Fast, Easy,Yum!
This can be an appetizer or a breakfast treat! Bite sized so no need for silverware.
1 can crescent rolls
1/2 lb breakfast pork sausage roll (like Jimmy Dean)
Shredded cheese *optional for appetizers
Preheat the oven to 375 degrees. Take crescent rolls and roll out flat. Try to seal the seams with wet fingertips but if you miss a bit don't worry, this is very forgiving.
Next take sausage- use 1/2 lb for an 8 pack of crescents. Fingers work well here to spread the sausage over the dough. Leave about 1/2 inch of dough uncovered on the end of the flat sheet of dough.
If you don't like to get messy try spreading the sausage in between 2 sheets of wax paper then slide it on top of the dough.
Once the sausage is lying on top of the dough start rolling it like a jelly roll, using the uncovered 1/2inch on the end to seal it. Now you have a sausage roll. You may use immediately or refrigerate this overnight. If you refrigerate, wrap roll in wax paper and slice later when you are ready to bake.
Slice into 1/4 inch "wheels" and place on ungreased cookie sheet. If you will serve this as an appetizer consider sprinkling shredded cheese on top or your favorite spicy seasoning.
Bake for 15-20 minutes or until the dough becomes golden brown. Serve with Fritattas and fruit on a plate. To be really decadent spread marmalade or your favorite jelly on top. Yum!