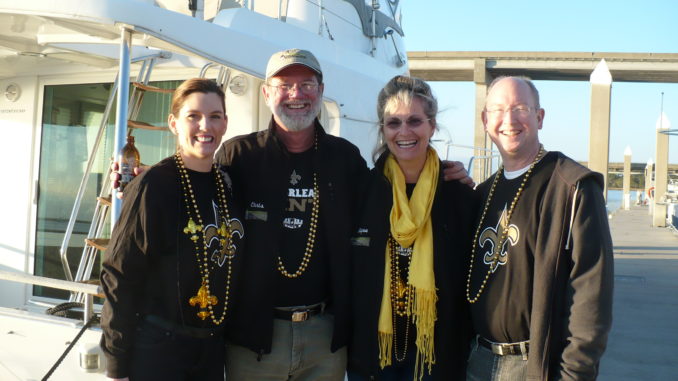 March 2010
.
The Cruising Lifestyle is about enjoying life on the water…and while the entire country experiences mountains of snow, we are cruising South on the Atlantic ICW from Charleston and in sunny Florida from the West coast through the Okeechobee to the East coast. It may be colder than we like it but the weather doesn't stop the cruising lifestyle at Captain Chris Yacht Services.
First we'll share another dream adventure beginning with training from Captain Chris Yacht Services. This looper couple started the circle in St. Petersburg FL aboard DREAM FEVER their 47 DeFever. Ever done locks? Click here to read all about this terrific training trip and see a detailed photo journal of this exciting journey…
How 'bout dem Saints? We are in Georgia aboard a yacht named DESIRE when the Black & Gold go marching in as Superbowl CHAMPS! Click here to cruise along with this Beneteau Swift Trawler42. She's a beauty…
Training Training Training Aboard our boat in Florida or your boat anywhere! Have some vacation time coming up? Schedule yourself aboard SANDY HOOK, our 44 foot trawler. Live aboard and learn aboard while having the time of your life. We are booking quickly through the beginning of Summer so check you calendars. Don't miss out on living your dream. Read more about how you can have your own trawler adventure…

Captain Concierge Service We would like to re-introduce you to a great concept that Captain Chris Yacht Services continues to offer for all our clients. Captain Concierge Service allows peace of mind while you are away from your yacht and keeps the boat ready to go when you are. Everything from checking the bilge to starting the engines to orchestrating your wash and wax as often as you like. We can even prepare the galley and provision engine room supplies allowing you to step aboard and go cruising whenever your calendar permits. No surprises to keep you at the dock after you planned the perfect trip. Set up a convenient schedule to keep your yacht in top notch shape. Call Captain Chris 772-205-1859

Vessel Preview Found the perfect boat but it's too far away from your home port? We can give you a qualified report on the vessel of your DREAMS before you book that airline ticket….

Captain Chris Cruising Calendar:

April 25-28, 2010 AGLCA

Don't have a boat yet? America's Great Loop Cruisers Association is a terrific way to learn about the cruising lifestyle. Informative Seminars are presented in a relaxed and social atmosphere at the upcoming rendezvous in Myrtle Beach. Many Loopers are starting their Northerly trek in anticipation of this annual spring rendezvous. Will you be at Myrtle Beach April 25-28? Come by boat or by car. Many hotels and golf courses are nearby.

Don't belong to AGLCA?

Contact us at Captain Chris Yacht Services and we can sponsor your membership.….

here's more

May 18-19, 2010 Passagemaker University- Anacortes Washington

If you haven't registered for Building Cruising Confidence as a Couple, better hustle. This is a terrific opportunity for both captain and mate to become comfortable with communicating effectively aboard a yacht. Hands-on practice allows each to walk in the others shoes and hone skills that may have gotten rusty. But do it now as this class fills quickly. Learn more

here

before you register at

PassageMaker University

.

May 20-22, 2010 TrawlerFest

–

All About Anchoring

&

The Right Knot for the Right Job

were big hits in Fort Lauderdale with sell out crowds. We've been asked for an encore presentation in the Pacific Northwest in May 2010. Never been to Washington State? Here's your chance to explore another cruising ground while learning about some of the fundamentals of boating.

www.trawlerfest.com
Don't have a boat yet? Captain Chris Yacht Services can help. Give us a call and reserve time aboard our trawler SANDY HOOK…and may the luck of the Irish be with you on the waterways- Happy Saint Patrick's Day!