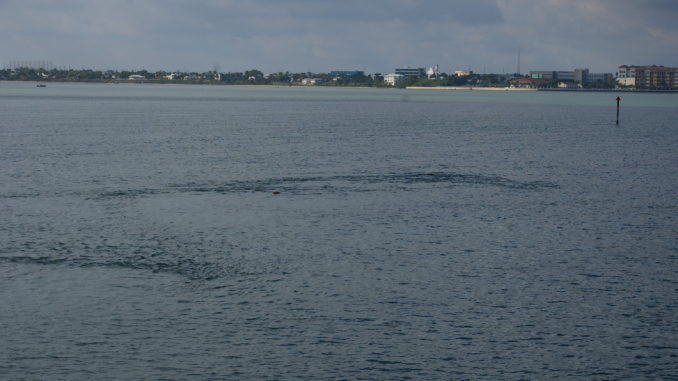 Electronics are a wonderful contribution to life. Having the latest technology can make your coffee before you wake in the morning and can show if you are in or OUT of the channel…REALLY??!??
Sometimes a GPS shows that we are sitting on land when we are clearly in a deep water channel. Navigational Electronics must be seen as tools to supplement the observational skills of the captain. We teach dead reckoning and paper chart technology before relying on the bells and whistles of any electronic chart plotters.
Look closely at the photo on the right….go ahead and click on it to enlarge it. What do you see? Does your GPS Chartplotter show the sunken sailboat on the edge of the channel? Nope!
This is about a 40 foot sailboat that sank in Fort Pierce, Faber Cove Channel. It has been there for over 9 months and only shows at low tide. At high tide you can barely see the water ripples when the tide is turning. And yes, we have reported this to the local authorities many times. They say that floats have been attached to the wreck many times but it took over a year before this submerged hazard was finally removed.
Beware! Don't rely ONLY on your electronics- Better look out the window for your best information for better navigation…and use your electronics to confirm where you are. Best of all, learn what all the Aids to Navigation or ATONs mean. How do you know if you should keep the red day marker on your right? What does that white diamond mean and WHY did that boat just beep the horn FIVE times at me?
Want to learn more? See our calendar to find out where we will present our next seminar on navigation or many other exciting and important topics. Or schedule training with us aboard your boat anywhere and let Captains Chris & Alyse teach you how to sharpen your boating skills. 772-205-1859