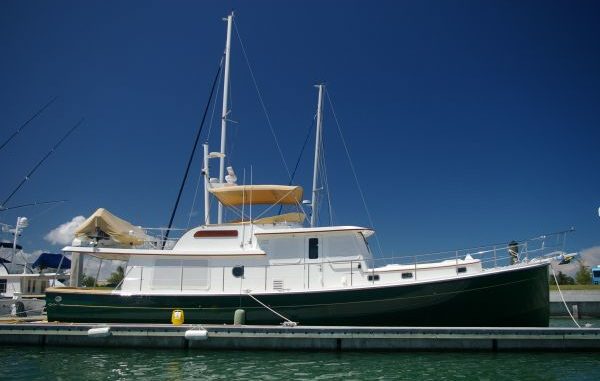 Vessel Type/length – Krogen Express 52 foot
Engine type/Horsepower – Twin Yanmar 480 HP
Cruising speed – Economical 16 knots
Starting location – Local boatyard
Destination – Home marina in Fort Pierce, FL
The Krogen Express is a beautiful boat with graceful lines reminiscent of the 1920's commuter boats in NYC. This boat was in the boatyard for bottom paint and the owner was not available to return the boat to it's slip. We drove over to the boat, witnessed the launching, boarded, checked through hulls and shafts for leakage, checked fluids and started the engines. As we backed out of the travel lift well we noticed the positive response of the boat. As we cruised out of the creek we went below to operate from the lower helm because of an approaching rain storm.
Later that day as we approached the home marina the rain stopped so we were able to run back up to the flybridge to watch for shoaling as we entered the marina basin. Backing the boat into the slip was a breeze using both engines and the bow thruster. Because of floating docks we able to get the boat snug against the finger pier and secure the boat for the owner to visit the next day.