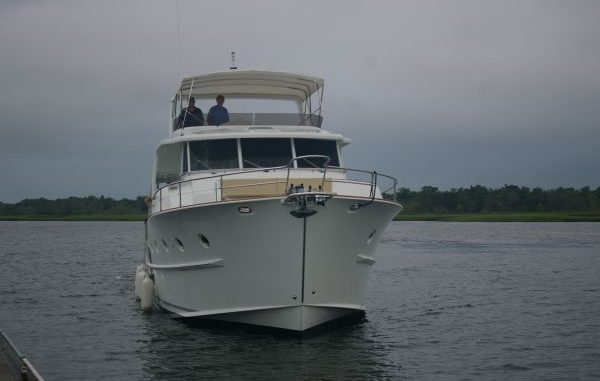 Fort Pierce Florida to Charleston SC
Vessel Type/Length – Beneteau Swift Trawler 52 feet
Engine type/Horsepower – Twin Volvo D9-575 HP Tier II
Cruising speed – 23 knots or more economical 18 knots
Starting location – Fort Pierce, FL
Destination – Charleston SC
This is the first Swift Trawler 52 sold in the USA. The owners moved up from an Island Packet Sailboat into the comfort and speed provided by this sleek French design. After two days of vessel orientation in Fort Pierce FL we begin SEAFARI's big adventure heading to Charleston SC for the summer season!
Let's first detail the training Captain Chris Yacht Services provides to the new owners. Before starting the engines, we cover all lifestyle systems that make boating comfortable in this cruising yacht. With three staterooms, a full modern galley, marine washer/dryer and two roomy heads there are many new features to learn about in this transition from sailboat to power yacht. The pilot house and flybridge allow us to review the essentials of navigation come rain or shine – and we have A LOT of thunderstorms during this training trip. RADAR, AIS and basic electronic GPS chart plotting is ongoing as we travel both intracoastal and ocean routes, avoiding the worst of the stormy weather whenever possible.
Below decks engineering includes engine maintenance, generator maintenance and trouble shooting fresh water pumps, salt water pumps, grey water pumps and black water pumps. A chilled water air conditioning system, bow & stern thruster and twin engines are all new experiences to master and we focus on these systems during our thorough indoctrination.
After a run through of all engineering spaces, we start with two days of docking on fixed and floating docks, both with and without the power behind the bow AND stern thrusters. Experience from a smaller vessel with fewer systems requires practice, practice, practice and that we do.
Thursday morning everyone becomes more confident with their docking skills so we are ready to begin our trek North. Because of the iffy weather and a NOAA forecast of afternoon thunderstorms we decide to run the ICW to Daytona Beach for our first evening's dockage. Numerous thunderstorms with rapidly increasing winds hold us to a slower speed than planned. We are only able to make new Smyrna Beach, tying up at a small waterfront restaurant. The incoming tide gives the new owner his first experience docking with a tidal current at his bow.
A driving rain wakes us Friday morning. Thanks to the pilot house we push on comfortably, staying in the ICW until St Augustine. Maybe we can peek out at the inlet as it crosses the ICW? If we can go "outside" and run in the ocean we will avoid many winding turns of the Georgia ICW saving 50 miles or more. The day looks promising with bits of sunlight so we pop outside with two inlet possibilities at JAX and Fernandina. Great weather, smooth water and we're back inside at Cumberland Island GA home of the Carnegie family's wild horses. A good pair of binoculars help us witness mares and their colts grazing in the late afternoon sun. To the west of Cumberland Island is the sub base known as King's Bay. Only one sub sits at the dock today.
Jekyll Island Marina is our next fuel stop. A following tidal current allows more practice docking in less than favorable conditions. More practice is a good thing. Brunswick Landing is our overnight stop where we rendezvous with cruising friends and some good buddies of the owner from back home in Texas. This is cruising at it's finest!
Saturday takes us through the ship channel of Brunswick with plans to go straight in to Charleston. The sea state brings large following seas but the boat remains comfortable although we are unable to maintain a true Rhumb line. To save fuel we alter course to the North running inlet of Port Royal Sound. Cruising up the ICW once again, the entire Western sky turns black by 3pm and the winds are gusting so we adapt and tie up for the evening in Beaufort SC. Rain slickers at the ready we do a little exploring of this sweet southern town, on a mission to find cheese grits and she-crab soup. At least the torrential downpour will wash the salt from our decks.
So close to Charleston- only 75 more miles – we can sleep in on Sunday. The last leg hones everyone's chart plotting skills as we navigate through twisting rivers and narrow cuts. As we near the infamous Elliot's Cut, today's approach is in good timing. The current is minimal – about 1.5 knots – and our passage is uneventful.
The Ashley River is in sight along with Charleston City Marina, our final destination on this journey. One more training adventure lies ahead: ebbing tide with an opposing wind. We have docking practice once again. Whew! Cheated death again! And no scratches to show for it. With the boat secured, we hop on the courtesy van for a Sunday Brunch in the city. The newspaper headlines proudly display a large waterspout in Charleston Harbor from yesterday! A powerful visual that confirms we made the correct decision to stay in port when foul weather was looming…
These former blue water sailors now have many more experiences to add to their log book:  shallow waters sandbars and mudflats, range lights, buoys flipping sides due to red-right-return (but which way is sea?), a submarine, a missile frigate, countless freighters and a gazillion dolphins leading us through it all…well, dolphins and Captain Chris Yacht Services!